News From Around the Village
Boston Business Journal Article Shines a Light on Lasell Village
February 2023
LV residents Jennifer and Nan, featured in the recent Boston Business Journal article "Back to school, again: Boomers are choosing on-campus retirement living," are what make our community so special.  Thanks to the BBJ for sharing their story and for officially welcoming Zehra Abid-Wood.  BJ subscribers can find the article here.  Non-subscribers click here for a pdf version.

Lasell University Names Zehra Abid-Wood President Of Lasell Village
February 2023
Lasell University named Zehra Abid-Wood president of Lasell Village, the University's on-campus senior living and learning community.  Following an extensive nationwide search, Zehra emerged as the leading candidate with excellent experience in senior living, organizational management, and visionary strategic thinking for the future of our shared institutions. Abid-Wood will report to the president of Lasell University and will partner closely with the Village's 13-member board of trustees. She will also serve on the University's senior management team.
Abid-Wood comes to Lasell Village with more than two decades of leadership experience, most recently as senior vice president of strategy and transformation at AlerisLife (formerly Five Star Senior Living). Previously, she was director of project and portfolio management at the Massachusetts Institute of Technology. In prior roles, she was responsible for a staff of more than 150 employees, and oversaw several capital development projects, in addition to holding multiple interim C-suite leadership roles during pivotal transition periods.
"Zehra's history of extraordinary leadership, combined with her focus on strategic change, makes her the perfect candidate to lead Lasell Village and serve its residents through a pivotal moment in senior living," says Lasell University President Michael B. Alexander. "Lasell Village has always been at the forefront by creating a groundbreaking, progressive, engaged senior living community. Under Zehra's leadership, the Lasell Village team will build on our steadfast commitment to innovation, lifelong learning, and excellence."
Abid-Wood has significant experience in operational and project management, strategic and institutional planning, growth strategy, partner and vendor management, operational effectiveness, real estate development, diversity and inclusion initiatives, and brand marketing and sales.
"I am committed to helping reshape the future of aging in place and the continued pursuit of lifelong learning," said Abid-Wood. "Lasell Village and Lasell University have such a special relationship that offers countless opportunities for continued growth, partnership, and transformational initiatives in education across the lifespan. I am thrilled to be joining the Lasell community and look forward to begin working with residents and staff in the coming weeks."
"Lasell Village is a special place, not only for our residents, but for our dedicated staff, University students, and the Newton community," said Jeffrey Simon, chair of the Lasell Village Board of Trustees. "The Village deserves a leader who balances a strategic focus with creative thinking to preserve our distinctive environment. Without question, Zehra is that person."
Abid-Wood, who will join the Lasell community this spring, earned a bachelor's degree from Williams College. She spent a year abroad studying at Oxford University in England.
AARP Runs Feature Article: "Retirement Living with a Campus Twist"
December, 2022
Lasell Village gets a shout-out in AARP's recent article profiling the growing trend of continuous care retirement communities on or affiliated with university campuses.  The piece describes the many benefit of an active senior lifestyle where residents engage in lifelong learning and growth, from taking classes to attending campus cultural and sporting events.  Read it here.
Village Gets Another "A" from Fitch
August, 2022
Lasell Village yet again has received an "A" rating from Fitch Ratings.  The ratings statement cites
"the expected stability of Lasell's financial profile through Fitch's forward-looking scenario analysis. Lasell is characterized by strong revenue defensibility; its unique market position as a provider of educational senior living services in a socio economically favorable service area which has helped support strong independent living unit (ILU) occupancy and a robust waiting list."  Read the full ratings statement.
May 2022: Boston Globe: Lasell Village Resident Receives College Degree at Lasell University Commencement

Village Resident Awarded Degree at Lasell University Commencement: Boston Globe Coverage
May 14, 2022
We are so proud of Lasell Village's own Elly Pollan, who on May 14 was awarded her associate's degree at Lasell University's commencement ceremony. Pollan's achievement was covered in the Boston Globe, describing how how her lifelong commitment to education, often interrupted by the typical demands of family and professional life, came to full fruition here at Lasell Village. Ms. Pollan was drawn to our community because of the focus on lifelong learning, the Globe writes, studying sculpture, painting, literature, and more, as she fulfilled our requirement of 450 hours of annual educational activities.
"I came here because that is what I was interested in — I wanted to continue my education," Pollan said. "It's wonderful, actually. It keeps you alive, and keeps you interested." 
Globe subscribers click here to read the full article.
March 2022: Life Plan CEOS talk 2022 Priorities
Life Plan CEOS Talk About Staffing and Their 2022 Priorities
March 8, 2022
Love and Company, a national senior living marketing firm, recently interviewed four CEO's of leading continuing care retirement communities for their thoughts about caring for staff in the challenging hiring environment created by COVID.  Lasell Village President Anne Doyle spoke about the unique culture of caring Lasell Village cultivates between staff and residents, with an emphasis on the well-being of the community as a whole.  A few highlights from Doyle during their discussion:
"It's really a connected circle. You have to treat staff well to serve residents well. You need to build a mutual understanding and appreciation between staff and residents. This isn't something that's new as a result of COVID. It should be that way all the time."
President Doyle pointed to Lasell Village's successful efforts to achieve a 100% staff vaccination rate as evidence that emphasizing relationships between and among staff and residents builds community and benefits everyone:
"We were the first senior living community in Massachusetts to mandate vaccines for all staff members. We lost three CNAs, but everyone else was, 'Thank you, thank you, thank you.'"  Doyle continues:  "The real foundation for this success began at the start of the pandemic. At Lasell Village, we have worked hard to build a culture of caring: people caring about themselves, their neighbors, their clients. So when the pandemic began in the spring of 2020, we talked a lot about caring for our neighbors, and that everyone needed to depend on each other to make good choices."
Read the full article here.
March 2022: Seven Habits that Lead to Happiness in Old Age
The Atlantic:  Seven Habits that Lead to Happiness in Old Age
March 1, 2022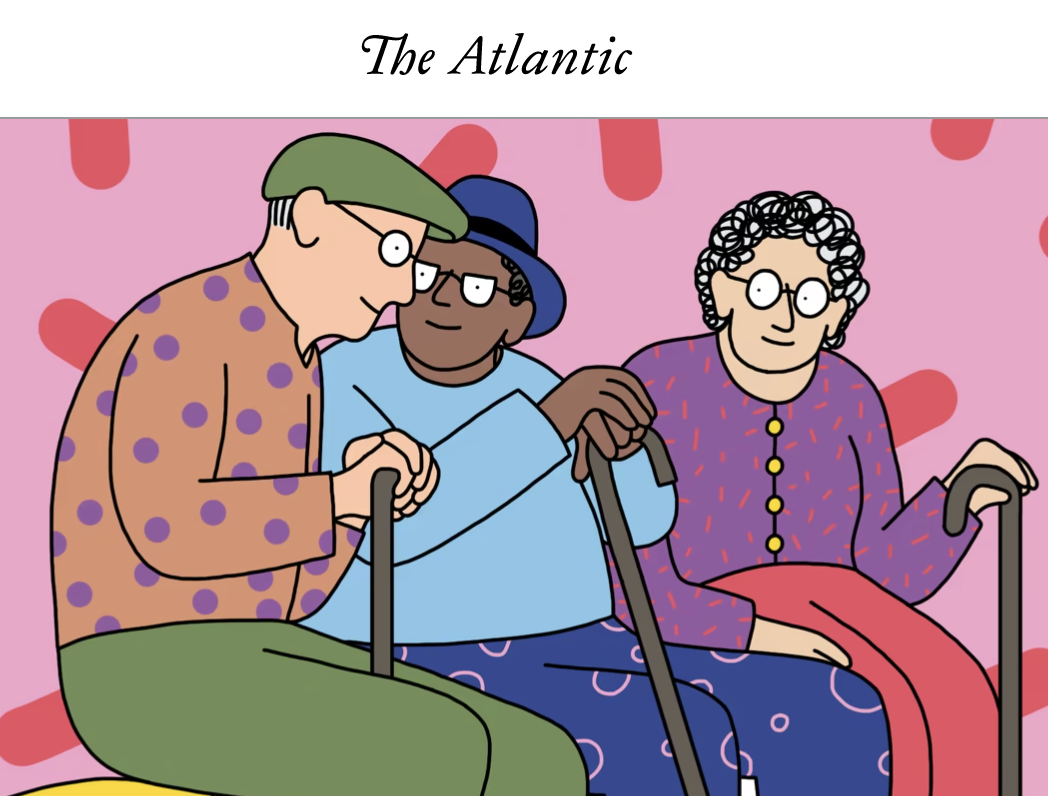 We love reading stories in major media outlets that confirm what we know at Lasell Village:  continuing an active lifestyle marked by continuing education, daily movement, and strong social connections are among the best ways to cultivate happiness as we age and face life's inevitable bumps and losses.  Read The Atlantic article here!
February 2022: Intergenerational Career Day
Village Residents and University Students Enjoy Intergenerational Career Day
February 14, 2022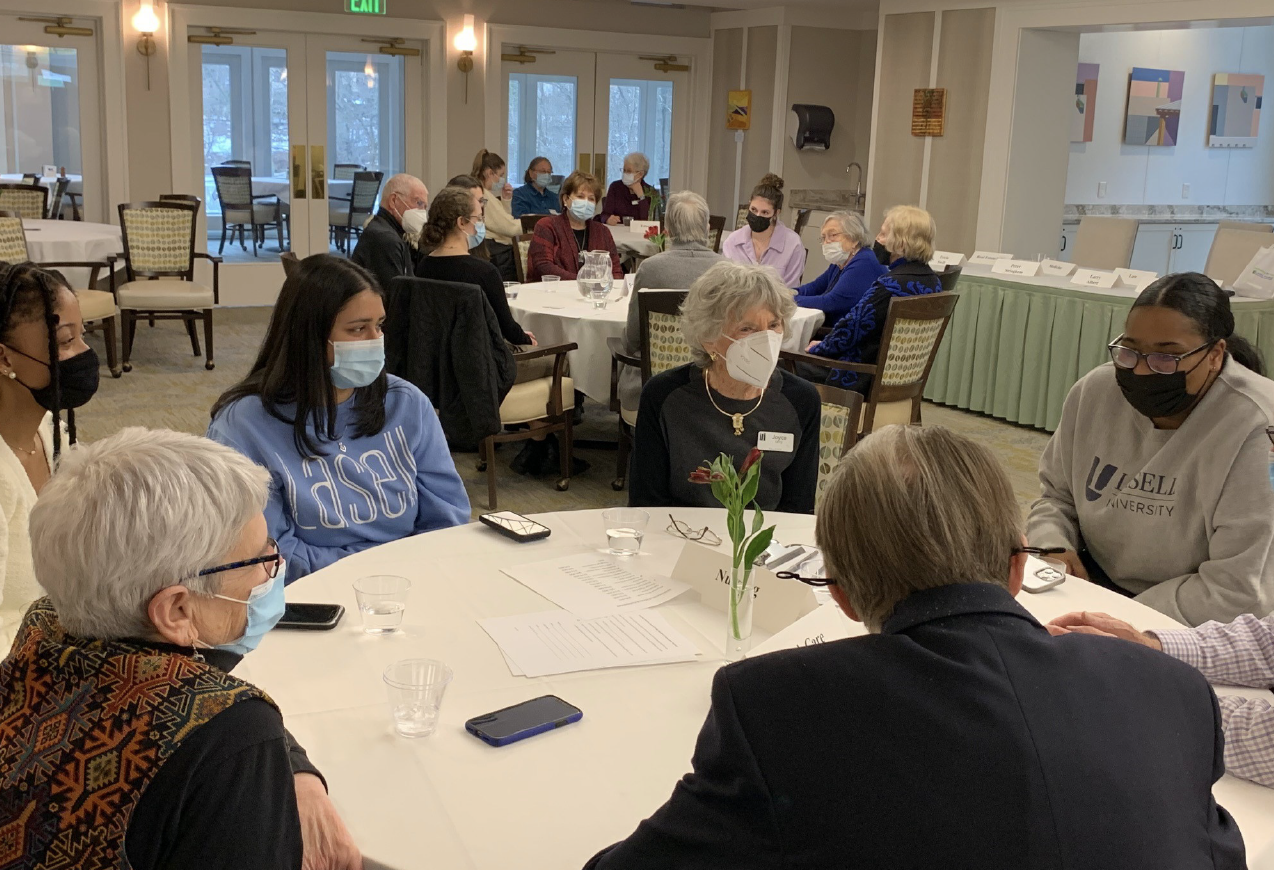 Last week's intergenerational career day held at Lasell Village demonstrates the vibrancy of creative partnerships between the Village and Lasell University.
This idea was spawned by students and residents who are elected to the multigenerational Student Government Association at Lasell University.  As we resume in-person educational activities, the focus continues to be on maximizing the benefits of an intergenerational campus, learning and sharing perspectives across the lifespan. One that brought students from the University together with residents to share ideas, experience, and contacts about various careers that are connected to the majors at the University: law, medicine, education, technology, business and marketing.
The two hours passed quickly and ended with refreshments AND lots of planned future meetings between students and Village residents!
Thank you to everyone who helped make this event such a success.
January 2022: Doyle at Yale SOM Leadership Institute
Village President Doyle Participates in Leadership Institute at Yale SOM
January 31, 2022
President of Lasell Village, Anne Doyle, and President of Lasell University, Michael Alexander, were invited to participate in this prestigious invitation-only Educational Executive Leadership Institute at Yale School of Management, for the third year in a row. Anne was invited as the President of the only senior living organization on a university campus with an educational requirement for its residents. It was an exciting conversation with 100 university presidents, the CEO of Intel, and the CEO of Zoom, reimagining the future of education.
January 2022: Getting dot Older TV Series Features Doyle
Getting dot older TV Series Featuring Anne Doyle Begins This Sunday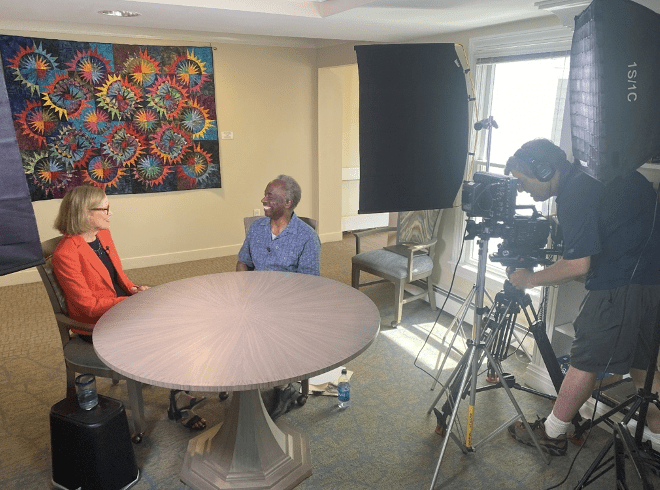 January 6, 2022
Tune in to your Boston area PBS station (channel listings below) Sunday, January 9th at 3:30 p.m. to see an exciting new weekly series produced by Roberto Mighty that features stories from older adults and commentary by nationally recognized experts in aging-related issues, including Lasell Village president, Anne Doyle.
This new program highlights "intimate revelations about aging from diverse baby boomers." Anne is featured as a guest expert in episodes 3 (airing in Boston January 23) and 12 (airing in Boston March 27), discussing opportunities to think differently about aging, including intergenerational living and learning.
For those outside of the Boston area, the series is running nationwide, and the list of other times and channels can be found  HERE:  STATION LIST.
For more information about the series and to view episode clips, visit www.gettingdotolder.com.
Channel Listings: Comcast Boston: Channel 802, 956 and 1146; RCN Cable: Channel 602 and 094; Verizon Fios Burlington: Channel 11, 473 and 511; Broadcast TV – Boston, Cambridge, New Bedford: Channel 2
December 2021: AARP Innovative Housing List Features Lasell Village
AARP Lists Creative & Innovative Housing Approaches in Pursuit of Your Best Life
December 2021
Thirty million readers opened their December 2021/January 2022 AARP magazine to find Lasell Village recognized in the article "Finding the Best Place For Your Retirement."  The Village was highlighted among other innovative senior living models for our learning opportunities. Lasell Village continues to distinguish itself for its philosophy of lifelong learning.
November 2021: Village is a MA Top-100 Women-Led Business
Three years running: Lasell Village is a MA Top-100 Women-Led Business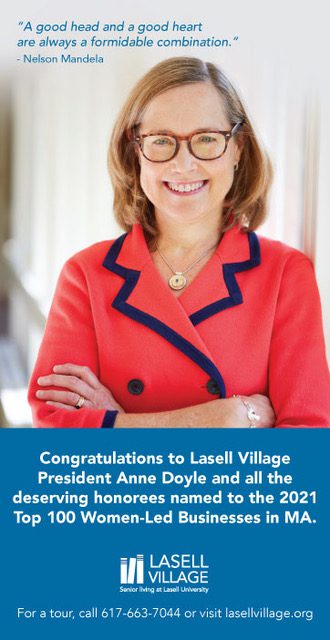 November, 2021
Congratulations to Lasell Village President Anne Doyle for being named to The Commonwealth Institute/Boston Globe Magazine list of Massachusetts' Top-100 Women-Led Business for the third year in row.  Village residents and staff alike attest to Anne's  winning combination of personal warmth and decisive, inspiring leadership.  Way to go, Anne!
Lasell Village is proud that nearly 70% of Lasell Village's employees are women and more than 50% of our Board of Trustees are women.
For more information about the awards and to see the full list of this year's recipients, visit the Boston Globe or The Commonwealth Institute.
October 2021: Live Panel with Village Residents
Highlights: Live Panel Discussion with Village Residents & Anne Doyle Now on Youtube
October, 2021
Last October, Lasell Village President Anne Doyle was invited to lead a panel on the future of aging in the United States for the 2021 World Ageing Festival based in Singapore and held virtually worldwide.  Experts from fourteen countries around the world were invited to present their perspectives on aging.
Anne Doyle provided context and facilitated a lively conversation with a panel of people well-positioned to provide perspectives on aging: Lasell Village residents, Sushi Gawande, Tricia Swift, and Charlotte Lindgren Winslow, and colleague Tim Driver, technology entrepreneur and President of the Age-Friendly Institute.  Simply stated, it was a fantastic event!
October 2021: AARP Applauds Lasell Village
AARP article applauds Lasell Village
October 2021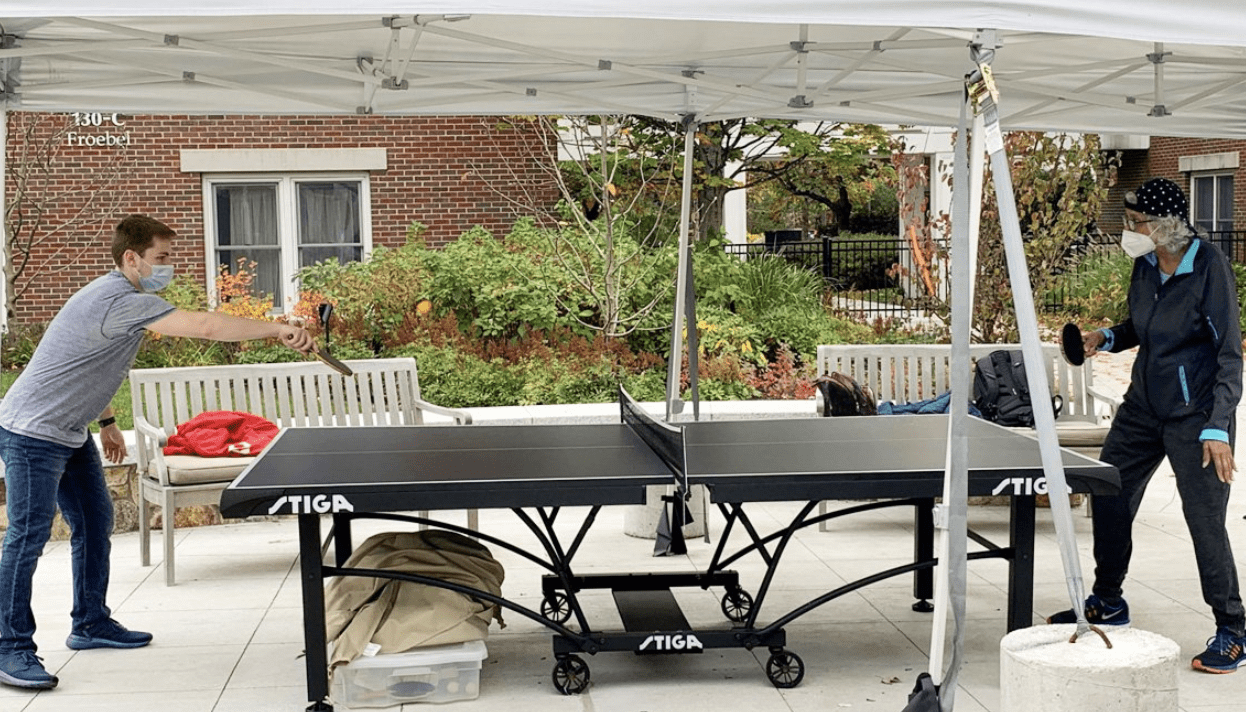 AARP article applauds Lasell Village
October 2021
We are delighted to share the recent AARP article highlighting Lasell Village's intergenerational model on a university campus. This article features the vibrancy of the campus community. Thank you to resident, Nelly Murstein, and Lasell University student and Village employee, Kelvyn Perez, for sharing your stories.  The fabulous ping pong photo also demonstrates what we know to be true: Connecting across generations IS a game changer!
September 2021: Village in Boston Globe Op-Ed on Recruiting Older Adults
Village in Boston Globe Op-Ed: Employer Benefits of Recruiting Older Adults
September 14, 2021
This week, the Boston Globe featured an op-ed piece by several board members of the Age-Friendly Institute, where Village President Anne Doyle is also a board member.  The authors cite the multiple benefits to employers of recruiting and retaining older adults—for customers, for younger co-workers, and for the older adult employees themselves.  Lasell Village gets a shout-out as an example of a local employer with an age-friendly employment philosophy.  Read it here.