News From Around the Village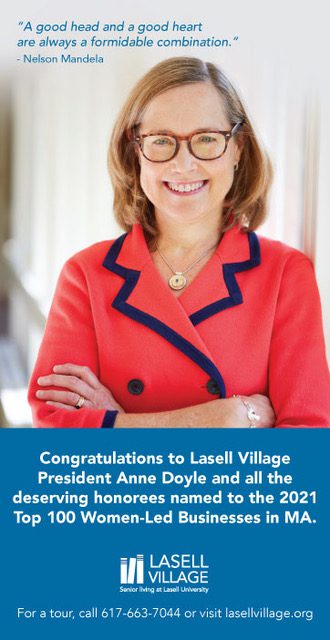 Three Years Running: Lasell Village Named A
MA Top-100 Woman-Led Business
November, 2021
Congratulations to Lasell Village President Anne Doyle for being named to The Commonwealth Institute/Boston Globe Magazine list of Massachusetts' Top-100 Women-Led Business for the third year in row.  Village residents and staff alike attest to Anne's  winning combination of personal warmth and decisive, inspiring leadership.  Way to go, Anne!
Lasell Village is proud that nearly 70% of Lasell Village's employees are women and more than 50% of our Board of Trustees are women. 
For more information about the awards and to see the full list of this year's recipients, visit the Boston Globe or The Commonwealth Institute.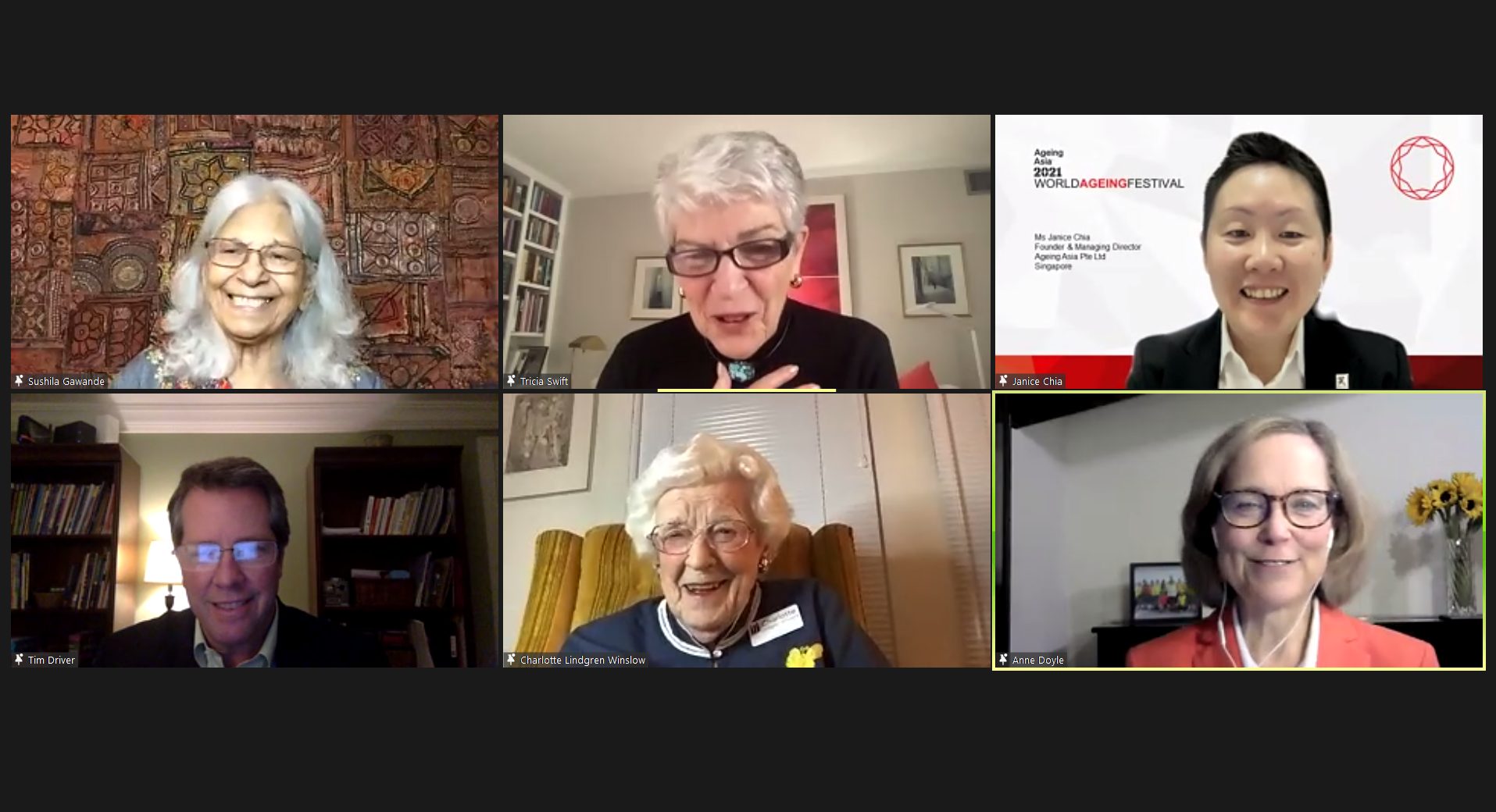 View Live Panel Discussion with Anne Doyle & Village Residents
October, 2021
For the second year in a row, Anne Doyle, President of Lasell Village has been invited to join the prestigious international judging panel for the annual Asia Pacific Eldercare Innovation Awards.  The awards recognize and honor organizations that commit to improving the quality of life, care, and happiness for elders through innovations in business, operations, and care delivery.
As part of the Ageing Asia Festival, Anne hosted a live panel discussion during the Future of Aging Roundtable with some of our very own Village residents on October 14, 2021 at 8:00 p.m.!  The panel included Lasell Village residents Sushi Gawande, Tricia Swift, Charlotte Lindgren Winslow as well as Tim Driver, President of Age-Friendly Institute.
Anne led a discussion focusing on:
top challenges facing seniors
how the pandemic changed views on community living
creative solutions in creating a longer life
new opportunities driven by increased longevity
Check back soon for a link to the panel recording!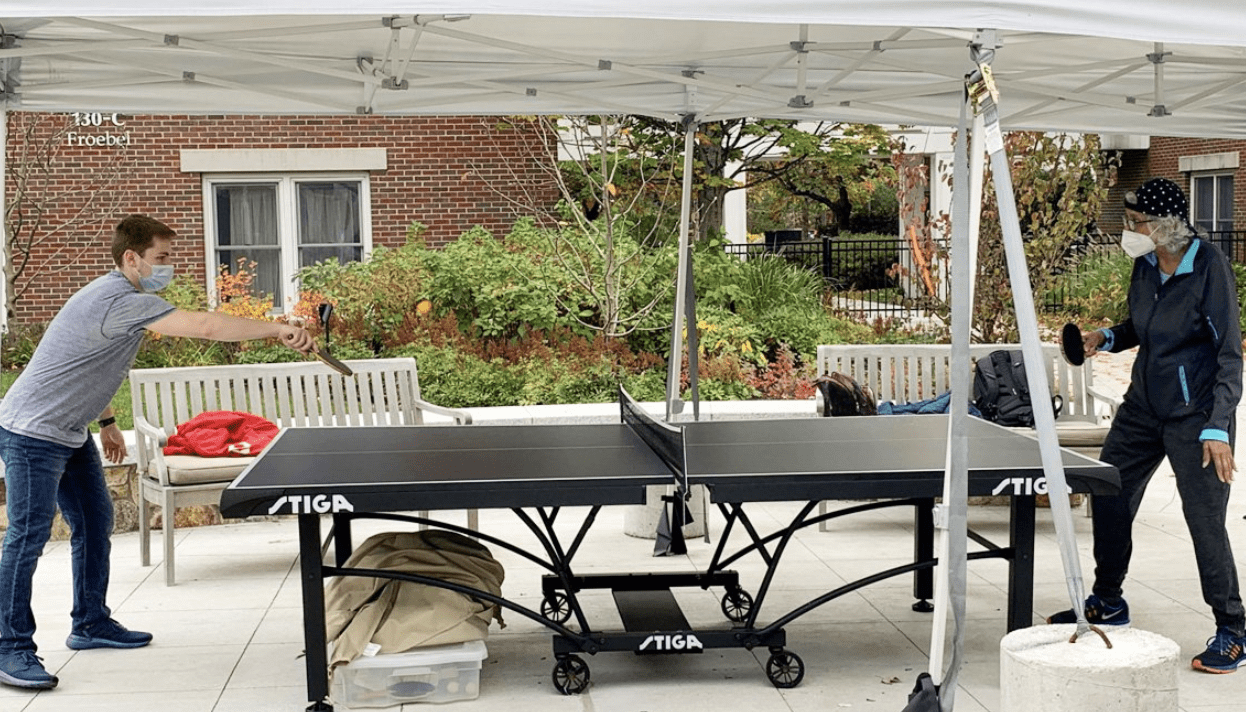 AARP article lauds Lasell Village
October 2021
We are delighted to share the recent AARP article highlighting Lasell Village's intergenerational model on a university campus. This article features the vibrancy of the campus community. Thank you to resident, Nelly Murstein, and Lasell University student and Village employee, Kelvyn Perez, for sharing your stories.  The fabulous ping pong photo also demonstrates what we know to be true: Connecting across generations IS a game changer!
Village in Boston Globe Op-Ed: Employer Benefits of Recruiting Older Adults
September 14, 2021
This week, the Boston Globe featured an op-ed piece by several board members of the Age-Friendly Institute, where Village President Anne Doyle is also a board member.  The authors cite the multiple benefits to employers of recruiting and retaining older adults—for customers, for younger co-workers, and for the older adult employees themselves.  Lasell Village gets a shout-out as an example of a local employer with an age-friendly employment philosophy.  Read it here.
Village Gets an "A"
August 2021
Lasell Village is proud to maintain an "A" rating from Fitch Ratings, a leading provider of credit ratings, commentary and research for global capital markets.
You can read more about Fitch rating here. 
CommonWealth Magazine Quotes Doyle
August 2021
CommonWealth Magazine's recent article about Governor Baker's vaccine mandate for nursing home employees cites the Village's first-in-the-state leadership on this front:
"Anne Doyle, president of Lasell Village, said managers talked to staff one-on-one about their concerns and by the time the policy was announced, 91.5 percent of staff were vaccinated. Out of 160 employees, only three are still unvaccinated, all in the nursing home. Doyle anticipates that the governor's mandate will convince them to get the shots. 'I think that's really going to help people who are just a little bit concerned or just maybe need that extra nudge to say now is the time for me to get vaccinated,' Doyle said."
getting dot OLDER
July, 2021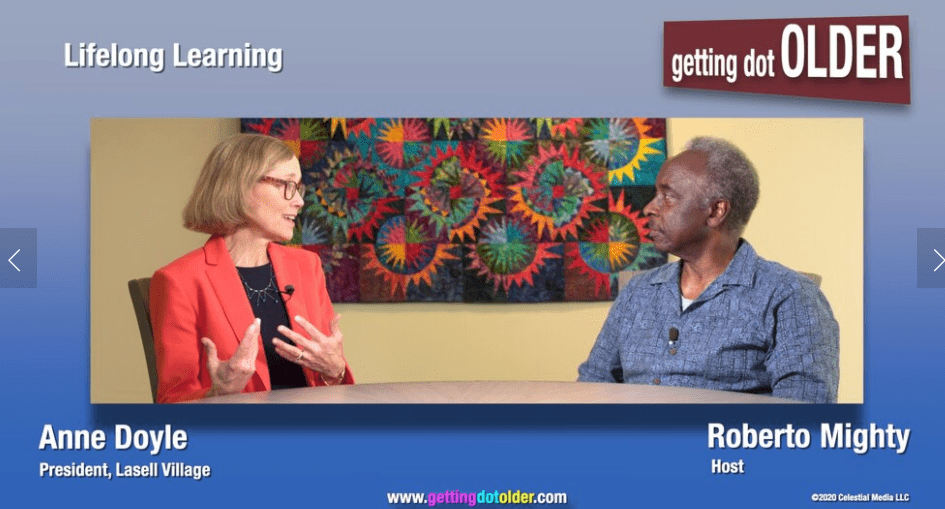 Our own Anne Doyle was recently interviewed for an upcoming show, Getting dot Older, a new public television series hosted and produced by Roberto Mighty, featuring intimate revelations about aging from a diverse group of Baby Boomers.
Roberto is a Newton resident, filmmaker and multimedia artist whose projects are seen around the US in film festivals, public television shows, online and museums. He created "getting dot OLDER" six years ago when he noticed he was aging, and wondered if other people were experiencing similar fears, joys, concerns and hopes. Roberto taught at Emerson College and Boston University for several years and is now devoting himself full-time to creative projects.
Roberto interviewed Anne as an expert in lifelong learning.  The series airs on PBS some time in October.
LV President Doyle Selected as Judge for "Oscars of the Eldercare Industry"
July, 2021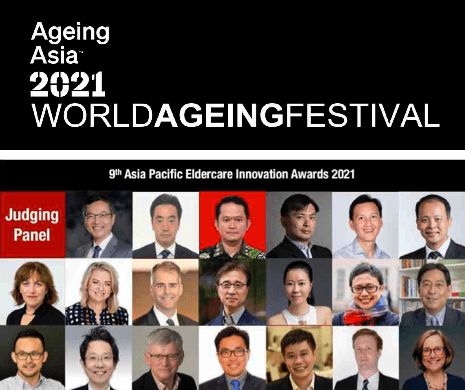 For the second year in a row, Anne Doyle has been invited to join the prestigious international judging panel for the annual Asia Pacific Eldercare Innovation Awards.
The awards recognize and honor organizations that commit to improving the quality of life, care, and happiness for elders through innovations in business, operations, and care delivery.  A broad range of themes will be judged, including design and architecture, operational efficiency, community, progaming, care model, research, and marketing, and over 30 awards will be given.
The awards are a key feature at the Aging Asia 2021: World Aging Festival, and will take place in a hybrid virtual and live celebration on October 20, 2021.
Village Resident Cover Story
June 21, 2021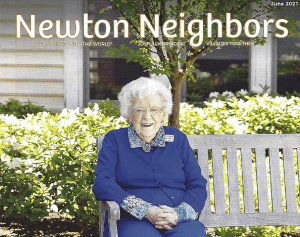 The smiling face of Lasell Village resident Charlotte Lindgren Winslow graces the cover of the June, 2021 issue of "Newton Neighbors" magazine.  She is the subject of a feature profile titled "Retired Professor and Lifelong Student."  Click here to read the piece.
"I waited a good many years to be a cover girl," says Charlotte.
"Charlotte is a wonderful example of the lively residents we have here well into their late 90's," notes President Anne Doyle.
Congratulations, Charlotte!
May 2021: Village Prioritizes Vaccinations
May 21, 2021
Lasell Village President Anne Doyle announced on Friday, May 21 that as of September 1, all Village employees will be required to be fully vaccinated.  The announcement shows Lasell Village's continued commitment to proactive leadership in addressing public health issues that effect the well-being of our residents. The Village is one of the first senior communities in Massachusetts to implement this policy, and we are proud of the already industry-leading vaccination rates of our residents (99%) and employees (currently at 91.5%, and approaching 100% as of Sept. 1.)  Read Anne Doyle's letter announcing the new employee vaccination requirement below:
Dear Residents, Employees, Family, and Friends,
The Lasell Village community cares deeply about the health and wellbeing of its residents, employees and entire community.
Over the past year, we have made many proactive decisions that would increase the safety and decrease the risks for everyone who lives, works and visits the Village. In early 2021, we were pleased to enable access to the Covid-19 vaccine for our residents and prospective residents, employees, companions, aides, faculty, and vendors, and we achieved a 99% vaccination rate for Villagers.
This week, we informed all employees that by September 1, Lasell Village is requiring all employees to be fully vaccinated, except those with medical conditions or religious exemptions. We are one of the first senior communities in Massachusetts to implement this policy because we believe it is important for the health and well-being of our community. Our management team and clinical leaders have worked hard to address employee concerns and questions about the vaccine. We are pleased that Lasell Village has one of the highest staff vaccination rates in the industry, more than 91.5%, and with this policy, we will approach 100%.  Already, new employee candidates are vaccinated before beginning employment.  We are aware that new variants of the virus are likely to continue to circulate, and that vaccination is the best form of protection.  By giving more than three-months' notice, we hope that everyone makes the decision to be vaccinated, and are providing support toward that end.
As we have throughout the past year, Lasell Village will continue to find ways to address the needs of all in a caring and thoughtful manner. For example, with the mask mandate ending, we are able to offer residents the choice of virtual or in-person classes, expanded dining and fitness options, and a resumption of evening in-person programming by mid-June.  All of these changes are possible because of the culture of caring that our community continues to embrace.  Lasell House will continue to follow Department of Public Health guidelines for Lasell House employees, residents, and guests.  All Village visitors should continue to check-in at the Welcome Desk.
Warm spring-time wishes,
Anne
May 2021: LU Student Wins Inaugural Book Award
May 4, 2021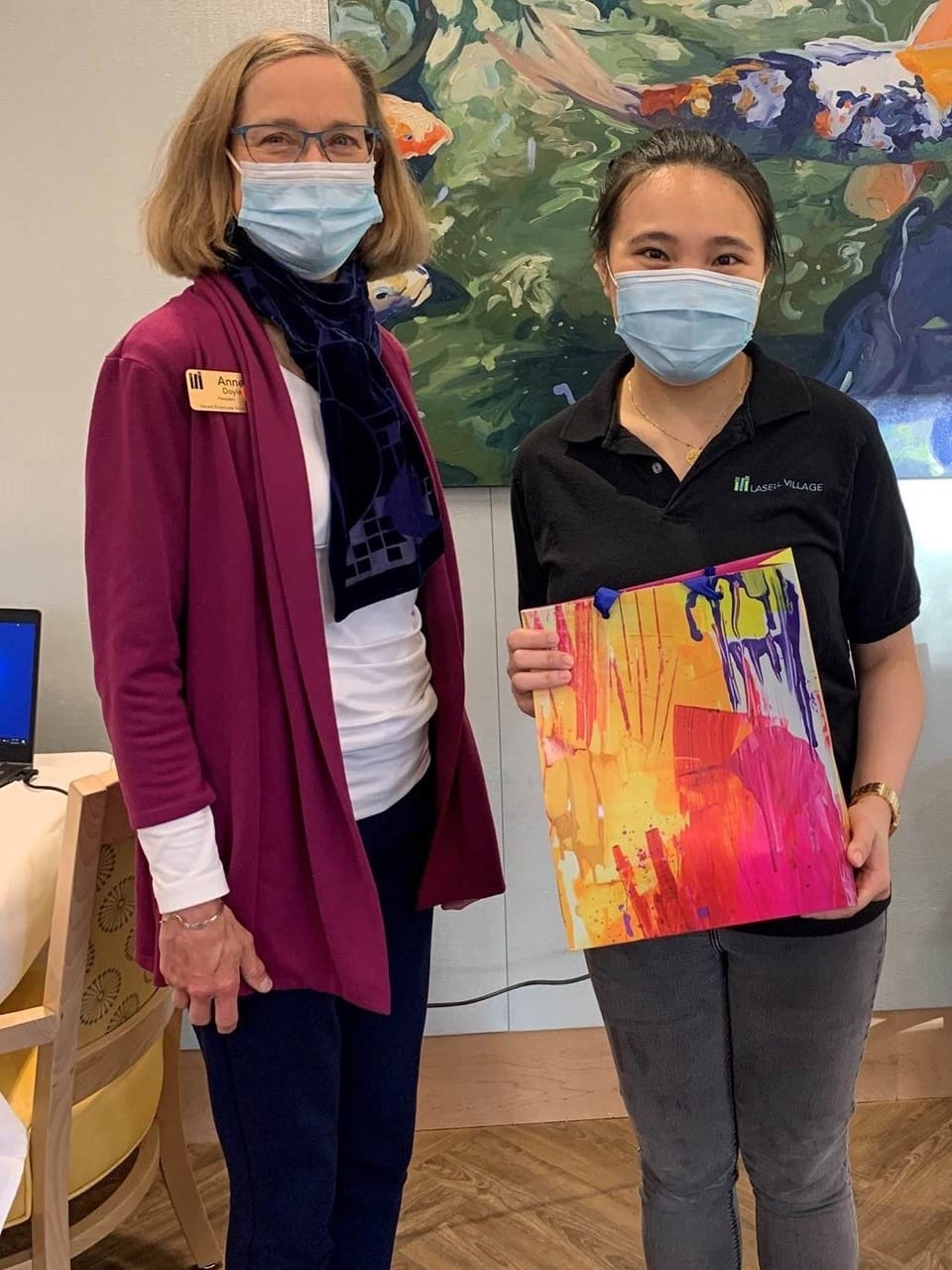 Lasell University senior, Tram Thai Mai Nguyen (Tram) was recently presented with the first annual Lasell Village Book Award, created this year by Village residents to honor LV President Anne Doyle and her team for their leadership during the pandemic.  Tram is a Fashion Retail and Merchandising student and has worked for Lasell Village Dining Services since March of 2018.  Resident and Lasell Village Board of Trustee, Caroline Schastny noted, "When we think of Tram, three qualities come to mind: customer service, professionalism, and leadership."
President Anne Doyle said, "With her bright smile and caring manner, Tram is always willing to help in any way she can.  She has gone above and beyond as a valued member of the dining and Café team, especially during this challenging past year."
Tram is in the process of deciding on a graduate school program. Whichever program she chooses will be fortunate to have an industrious, compassionate, imaginative student in their architecture graduate program. Congratulations, Tram!
A note about the Lasell Village Book Award:  The five-year award of a book and gift was established in 2021 by approval of Lasell Village residents, in gratitude for the executive teams' extraordinary work during the pandemic.
April 2021: LV Featured in Gerontological Society Newsletter
We'd like to share the attached article in the
Gerontological Society of America newsletter,
Advancing Age Inclusivity in Higher Education
,
that describes our intergenerational campus. The article depicts the joy of intergenerational learning at this special community.
"The experience of getting to know and interact with the students was wonderful. I was immediately captivated by the intelligence, work ethic, and engagement of this group of young people."
For example, last year, a Lasell University faculty member and Village resident asked his Service Quality Management class to execute a service quality audit of Lasell Village. The class requires students to create a questionnaire, interview residents and key staff members, then present a detailed report of their findings to the class. The residents loved participating in the audit because it was practical, and they were able to explain what they enjoy about the community.
"Being with the children was wonderful – physically and mentally invigorating".
A more recent example of intergenerational activity at Lasell Village were students and residents coming together to launch an exciting new project, Biochemistry at the Movies. The project examines moral and ethical issues in films based on actual cases related to a disease or the effects of chemicals in the environment. The project kick-off featured movies were Lorenzo's Oil and Extraordinary Measures. This new program is generating intrigue and igniting many enthusiastic learners.
"Our residents move to Lasell Village because they're interested in a vibrant intergenerational community with all the offerings of a university. We have about 265 residents across three levels of care starting with independent living until the end of life. We engage residents across all those levels of care with educational programming" said Village President Anne Doyle who also noted that Lasell Village is located on the campus of Age Friendly Lasell University.
January 2021: Webinar: "Following the Facts"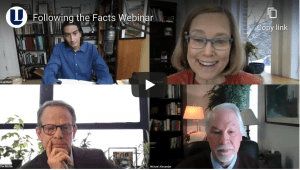 Click to view Village President, Anne Doyle along with Museum of SciencePresident Tim Ritchie, Lasell University President Michael Alexander, and NPR Reporter Arun Rath for an informative webinar.  Anne added her perspective on the critical role of science in keeping Lasell Village residents safe while strengthening our community during the global pandemic.
Interested in reading more?  Visit the news archive for a complete selection of news items dating back to 2018.