News From Around the Village
University Student Wins Inaugural Book Award
May 4, 2021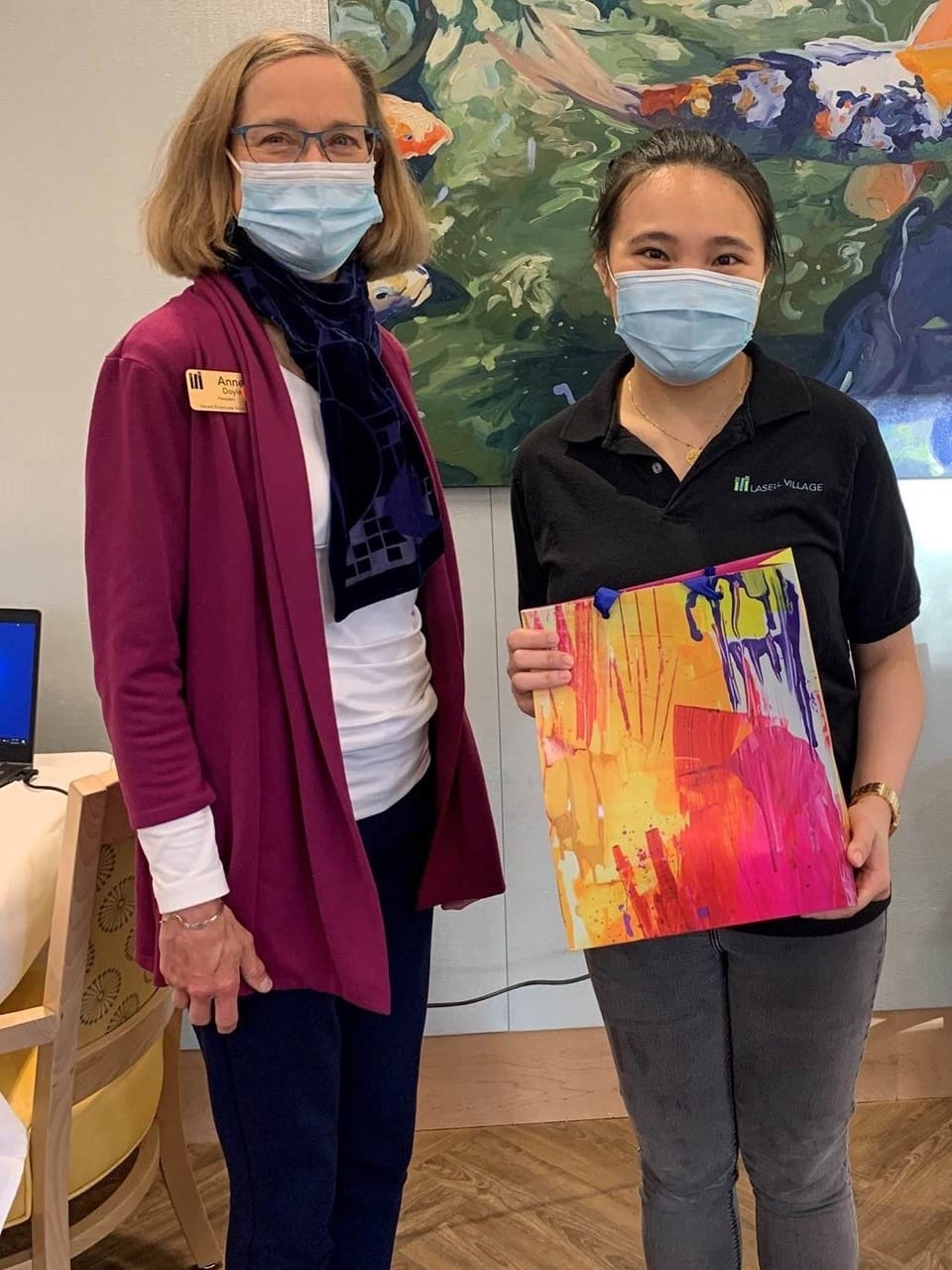 Lasell University senior, Tram Thai Mai Nguyen (Tram) was recently presented with the first annual Lasell Village Book Award, created this year by Village residents to honor LV President Anne Doyle and her team for their leadership during the pandemic.  Tram is a Fashion Retail and Merchandising student and has worked for Lasell Village Dining Services since March of 2018.  Resident and Lasell Village Board of Trustee, Caroline Schastny noted, "When we think of Tram, three qualities come to mind: customer service, professionalism, and leadership."
President Anne Doyle said, "With her bright smile and caring manner, Tram is always willing to help in any way she can.  She has gone above and beyond as a valued member of the dining and Café team, especially during this challenging past year."
Tram is in the process of deciding on a graduate school program. Whichever program she chooses will be fortunate to have an industrious, compassionate, imaginative student in their architecture graduate program. Congratulations, Tram!
A note about the Lasell Village Book Award:  The five-year award of a book and gift was established in 2021 by approval of Lasell Village residents, in gratitude for the executive teams' extraordinary work during the pandemic.
 LV Featured in Gerontological Society Newsletter
April 5, 2021
We'd like to share the attached article in the Gerontological Society of America newsletter, Advancing Age Inclusivity in Higher Education, that describes our intergenerational campus. The article depicts the joy of intergenerational learning at this special community.
"The experience of getting to know and interact with the students was wonderful. I was immediately captivated by the intelligence, work ethic, and engagement of this group of young people."
For example, last year, a Lasell University faculty member and Village resident asked his Service Quality Management class to execute a service quality audit of Lasell Village. The class requires students to create a questionnaire, interview residents and key staff members, then present a detailed report of their findings to the class. The residents loved participating in the audit because it was practical, and they were able to explain what they enjoy about the community.
"Being with the children was wonderful – physically and mentally invigorating".
A more recent example of intergenerational activity at Lasell Village were students and residents coming together to launch an exciting new project, Biochemistry at the Movies. The project examines moral and ethical issues in films based on actual cases related to a disease or the effects of chemicals in the environment. The project kick-off featured movies were Lorenzo's Oil and Extraordinary Measures. This new program is generating intrigue and igniting many enthusiastic learners.
"Our residents move to Lasell Village because they're interested in a vibrant intergenerational community with all the offerings of a university. We have about 265 residents across three levels of care starting with independent living until the end of life. We engage residents across all those levels of care with educational programming" said Village President Anne Doyle who also noted that Lasell Village is located on the campus of Age Friendly Lasell University.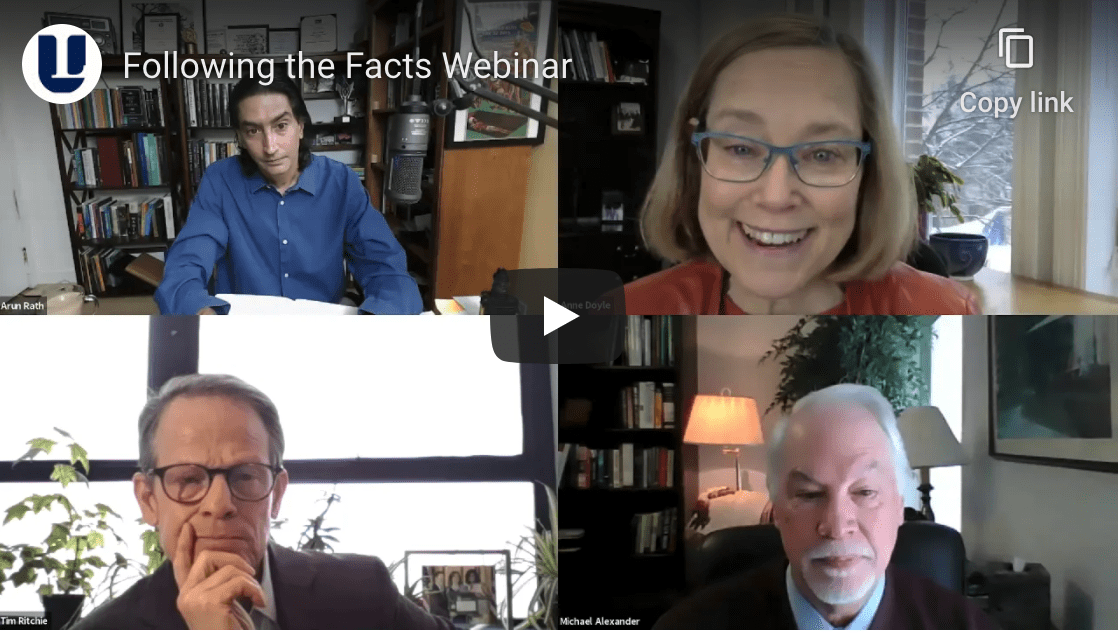 Webinar: Following the Facts, How Science Helps Keep Communities Safe in the Age of COVID-19, with Lasell Village President Anne Doyle.
Click to view Village President, Anne Doyle along with Museum of Science President Tim Ritchie, Lasell University President Michael Alexander, and NPR Reporter Arun Rath for an informative webinar.  Anne added her perspective on the critical role of science in keeping Lasell Village residents safe while strengthening our community during the global pandemic.
Village Vaccination Clinics off to a Successful Start
January 14, 2020
Congratulations to all who were vaccinated this week! With careful preparation and the full attention of the Village team, this week's two on-site clinics moved along without a hitch and with a celebratory feel.  CVS informed us that this was their smoothest vaccination clinic site yet, thanks to the team's planning and pre-work and to residents' cheerful cooperation.  As one resident said, she never knew that a shot in the arm could be the best present ever!  A special bonus was the chance for staff and residents to enjoy live – and lively – conversations, even with masks on and at the appropriate distance.
Vaccinations by the numbers:
Nearly 400 first doses of the Pfizer Covid vaccine have been administered across the entire Village, Lasell House, and Studios!  We are thrilled with the results: 100% of Lasell House and Studios' residents and over 98% of independent residents have received the vaccine along with aides and some on-site vendors who have frequent community contact. At our first clinic in late December, 75% of all staff were vaccinated.  Additional staff are being vaccinated next week.
Next steps:
Residents who received their first dose on Monday, January 11 will receive a second dose on Monday, February 1. Residents who received their first dose on Tuesday, January 12 will receive their second dose on Tuesday, February 2.
We all need to keep our guard up, as a recent Sunday New York Time's article articulated. It reminds us that even when people are fully vaccinated (a week or two after the second dose), they still may become virus carriers, and we must remain careful.  We have over a month to adjust protocols at the Village.  By the end of February, when nearly everyone in the community has received their second dose and there is protection, we will update protocols based on CDC and Department of Public Health guidance and the then-available best medical evidence.
The team is delighted that this week we were able to deliver peace of mind. We loved seeing so many smiling eyes above masks on our vaccination days!
As we approach our national day to honor The Reverend Doctor Martin Luther King, Jr., his words remind us of the power of love: "I have decided to stick with love. Hate is too great a burden to bear."  These are words to carry us into the New Year.
Doyle Joins Prestigious Judging Panel for Ageing Asia Awards
November, 2020
Anne Doyle, President of Lasell Village, served as a judge at the 11th Ageing Asia 2020 Innovation Awards, held in Singapore this past November. Anne was invited by Janice Chia, Director of Ageing Asia Pte. Ltd to serve on the prestigious panel of judges joining virtually from Europe, Asia, and the United States.
Sponsored by Ageing Asia and the World Ageing Festival, the annual conference showcases global senior care models and innovations, and brings together experts in business, not for profits and government. This year's conference drew 2,000 attendees from 23 countries, in-person and virtually.
The competitive Innovation awards highlight new ideas and successful programming serving older adults throughout the Asia-Pacific region. "The ingenuity displayed by the hundreds of applicants was impressive," said Doyle. "As the President of Lasell Village, a forward-looking senior living community on a university campus, I am thrilled to learn from other organizations breaking new ground to demonstrate ways for older adults to live full and active lives."
"The Ageing Asia Innovation Awards showcased so many creative approaches to meet longevity with opportunities." This included an exercise application provided to Hong Kong seniors that provides virtual feedback on proper exercise form, combining technology with in-person visits with a fitness instructor.
Winning entries included: Allium Care Suites by Allium Healthcare, Singapore for Best Residential Care Model Implementation that demonstrates improvement in quality of life for older adults; Longwood Health Center by SCG Building & Living Care Consulting, Thailand for Best Architecture Design Project by a firm that embodies ageing-in-place for older people, and Ryman Healthcare Ltd, New Zealand for Best Dementia Care Model Solution Implementation that demonstrates improvement in quality of life for older adults.
Village Gets an "A" From Fitch
November 20, 2020
 Lasell Village is proud to announce that Fitch has continued to provide us with a strong 'A' credit rating, with the outlook revised from "Positive" to "Stable," reflecting Lasell Village's ongoing implementation of its strategic plan. In these uncertain times, Lasell Village's 'A' rating, which is among the top 15% of all Continuing Care Retirement Communities, places us in an excellent financial position to continue to develop and build our continuum of care.
 Fitch has released the following statements regarding Lasell Village (LV):
 "STRATEGIC PLANNING PROCESS: The revision of the Outlook to Stable from Positive reflects a strategic planning process currently underway at LV with the final approved plan expected to include new capital projects and potential debt issuances. Although LV's current financial metrics could support an upgrade, more clarity on the scope, timing, and funding of any capital projects will be needed before there is any further positive movement in the rating. The strategic planning process is expected to conclude within the next year.
 LV's financial profile is characterized by a strong balance sheet and consistent profitability, which supports very good debt service coverage.
 STRONG FINANCIAL PROFILE: The affirmation at 'A' reflects LV's very strong financial profile supported by a robust liquidity, solid operations and steady occupancy levels. At June 30, 2020 (fiscal year-end), LV had $48.5 million of unrestricted cash and investments, translating into 1020 days cash on hand (DCOH) and 332.4% cash to debt, both of which exceed Fitch's 'A' category medians of 649 DCOH and 129.2%. LV's strong balance sheet provides a financial cushion that enables it to absorb operating pressures associated with the current coronavirus pandemic, as well as mitigates risks given LV's position as a relatively small single-site provider."
 To read the entire Fitch Press Release, please click here.
Village Named one of MA's Top 100 Women-Led Businesses for a Second Year in a Row
November, 2020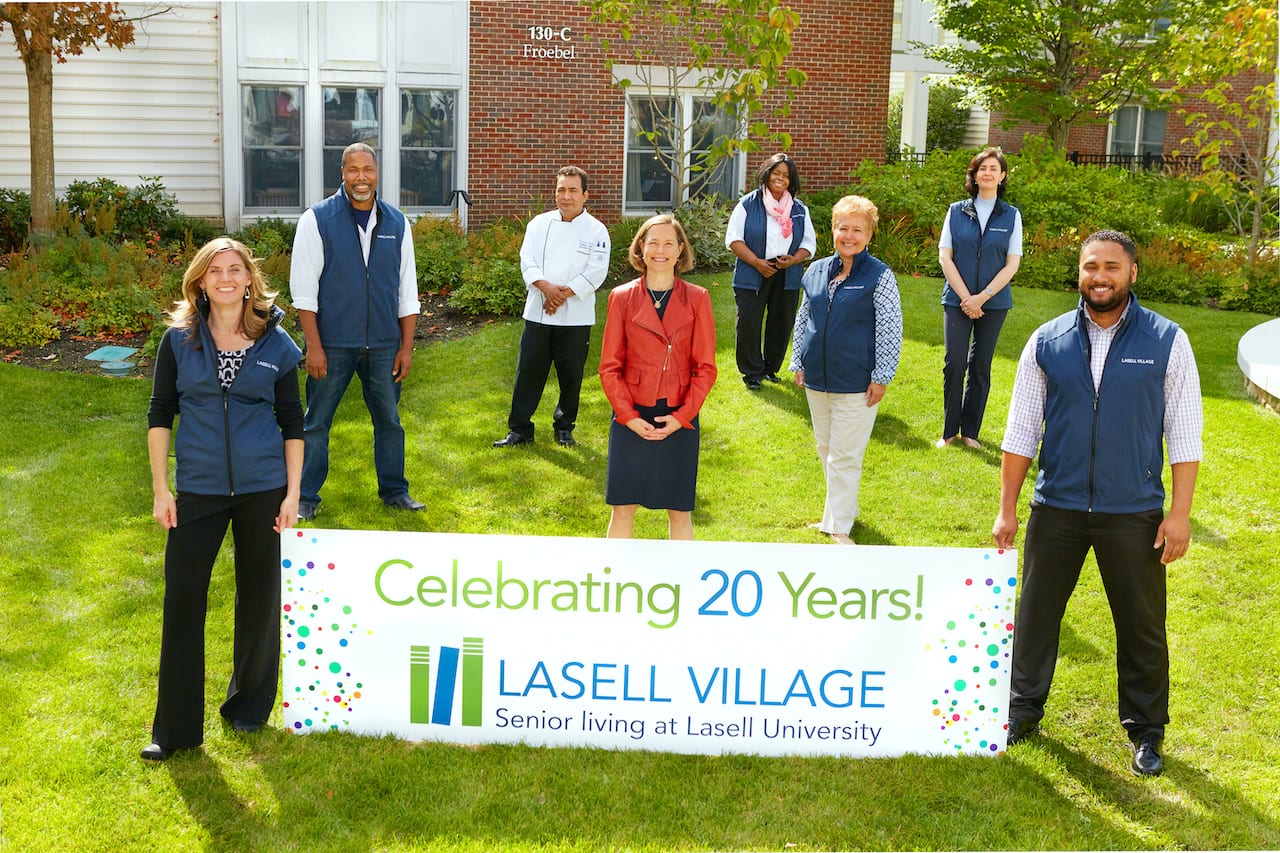 Lasell Village is pleased and proud to announce that President Anne Doyle was recently recognized by the Commonwealth Institute and Boston Globe Magazine as one of the Top 100 Women-Led Businesses in Massachusetts.
Read Globe Top 100 Women-led general coverage here. 
Read Globe feature on Anne Doyle's pivotal leadership here.
This is the second year in a row that Anne is named to this prestigious list.  We at Lasell Village know how richly it is deserved.  This year has been a true test for leaders world-wide and Anne's compassionate care of Village residents and staff is a hallmark of her leadership through these challenging times.  The health, safety and continued community life for residents and staff are top priorities for her.
Anne will say this honor represents a team effort, however the management team believes this award is a reflection of her exceptional leadership.
Congratulations Anne for this distinguished honor!
November, 2020
A Message from Lasell Village President Anne Doyle
Resident Receives Honor from LeadingAge Massachusetts
November, 2020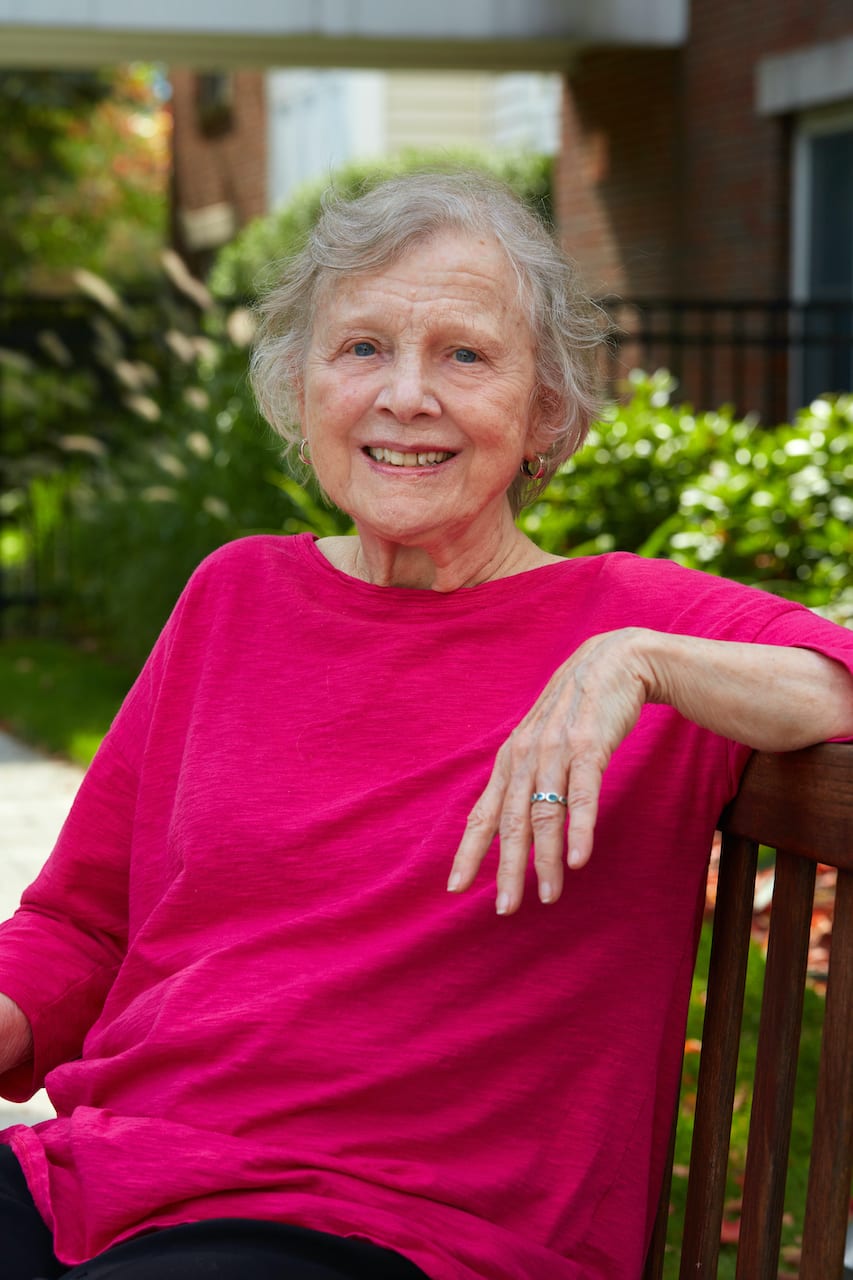 Lasell Village is excited to announce that resident Margery Hutter Silver, Ed.D. (pictured right), received 2020 Member Honors from LeadingAge Massachusetts for going "above and beyond on a daily basis" and demonstrating "outstanding dedication and service, sacrifice, heroism, and resilience" in her role as Board Chair of Lasell Village. LeadingAge announced five 2020 Member Honors among its hundreds of member organizations.
In supporting Margery's nomination, Residents Jean Stringham and Caroline Schastny highlighted many of the reasons that qualify Margery for this recognition. Margery wears many hats: neuropsychologist, published author and poet, resident, and Board Chair. Lasell Village President Anne Doyle commended Margery, "Margery provides both Trustees and management with valuable advice on the needs and interests of the residents. She has guided the Board in developing a five-year strategic plan, and over the last eight months, has offered clear perspective and guidance to Village management in developing Covid-19 protocols. As Board Chair, Margery leads with a big heart and deep intelligence."
Fellow Resident Jean Stringham notes Margery is the only resident of a senior living community in Massachusetts that also serves as Board Chair. Resident Caroline Schastny highlights that Margery has respect and warmth for all residents and is known for her wit and sensitivity.  Her caring approach contributes to her being a dedicated and effective leader, friend, and educator.
Margery co-authored the book "Living To 100: Lessons in Living to Your Maximum Potential at Any Age" that highlights attributes of a long and healthy life. Anne Doyle observes that Margery exemplifies the qualities of successful aging highlighted in the book every day.
Health Care Professionals Elected to Board of Trustees
October 5, 2020
Lasell Village is pleased to announce the election of three exceptional health care professionals to the Board of Trustees. Lasell Village is an award-winning Life Plan Community located on the campus of Lasell University in Newton, Massachusetts. Residents ages 65 to over 100 commit to an individualized learning plan totaling more than 450 hours of classes and related activities each year.
President of Lasell Village, Anne Doyle, noted that the expansive health care delivery and policy expertise of Dr. Nkem Okeke, Dr. Julia M. Gallagher and Ms. Laurie Samuels Pascal will complement a strong board implementing a forward-looking Strategic Plan, building on Lasell Village's unique living and learning model. "Our educational foundation draws curious residents, staff and Board members to Lasell Village. Lasell Village continues to be the first and only community with lifelong educational requirements for its senior residents in partnership with Lasell University."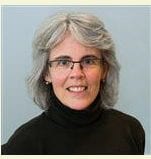 Julia M. Gallagher, MD, is a palliative care physician in the Division of Palliative Care and Geriatric Medicine at Massachusetts General Hospital (MGH) where she serves as the Medical Director of the Home-Based Palliative Care Program and as an Instructor in Medicine at Harvard Medical School. Julia sits on the Mass General Brigham (MGB) Palliative Care Committee, the Executive Working Group for the MGB Hospice Collaborative and a work group developing a pilot program to support the care of frail older adults at home.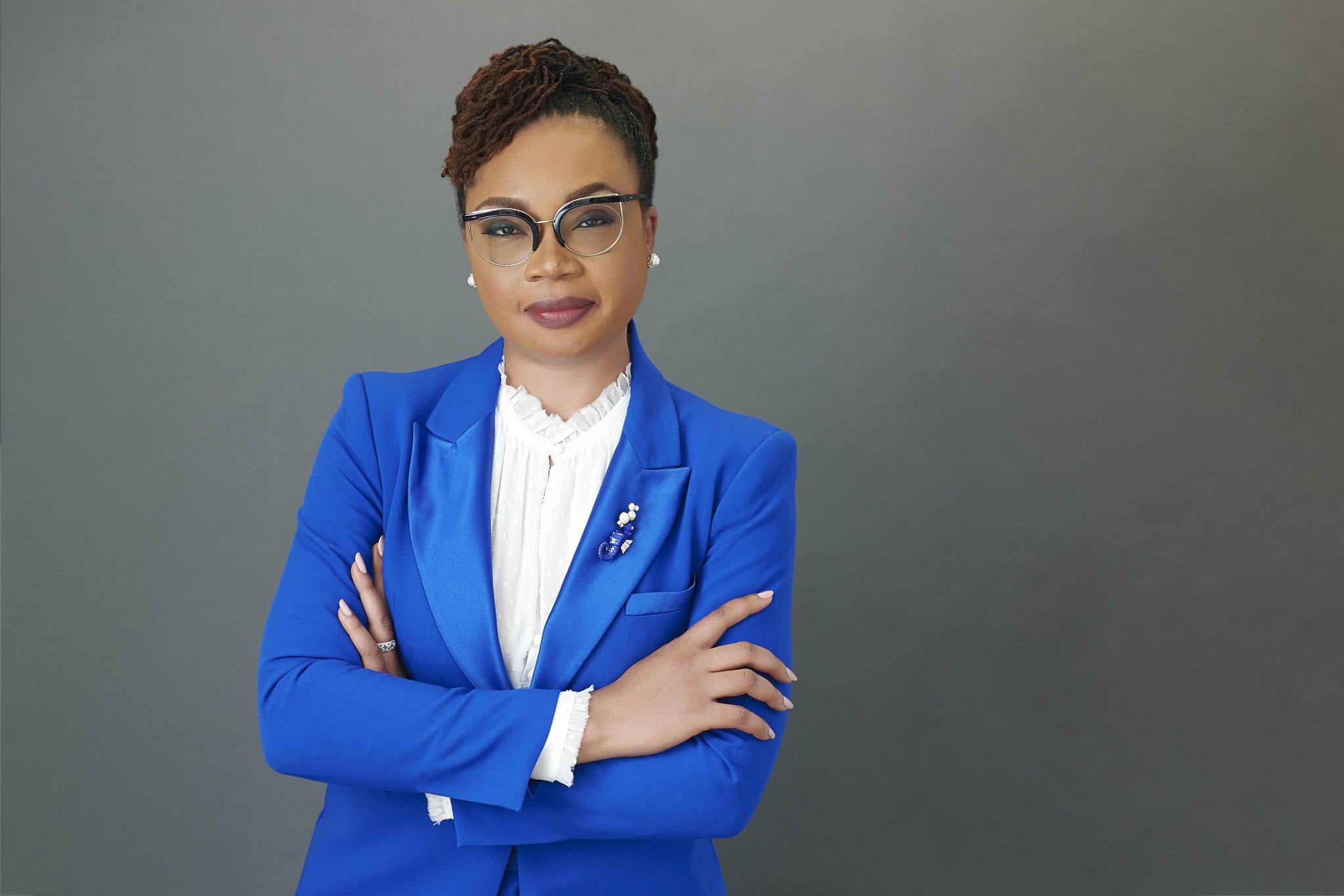 Nkem Okeke, MD, MPH, MBA, is CEO and Founder of Medicalincs, LLC, and has spent two decades as a healthcare executive, advisor, clinician, change management facilitator, and entrepreneur helping companies improve overall efficiency, grow, and scale successfully. She currently serves as a senior advisor to the CEO of Priority Partners at Johns Hopkins Healthcare and serves on the Maryland Health Care Commission Advisory Council for the State Medicare Primary Care Program.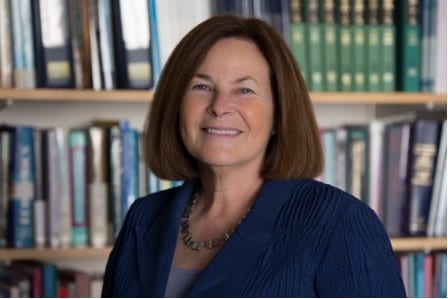 Laurie Samuels Pascal, MPH, MBA, is a Senior Lecturer in the Department of Health Policy and Management at the Harvard T.H. Chan School of Public Health and President of Pascal Consulting. She has more than 20 years of experience in strategy, planning and improving organizational effectiveness in public and private health care organizations and systems in the US and internationally. She serves on the Boards of Trustees of Lasell University, where she chairs the Student Experience Committee, and Goddard House Assisted Living, and is a member of the Harvard Pilgrim Health Care Ethics Advisory Group.
The Lasell Village Board is composed of 15 professionals and residents with expertise in business, law and health care. The Trustees' responsibilities include developing and implementing the Strategic Plan, approving annual and capital budgets, supporting the intergenerational mission of Lasell Village, and promoting the general well-being of the Village and its residents.
 Board Chair and resident, Dr. Margery Hutter Silver, spoke enthusiastically about the new Trustees. "We welcome these talented leaders to the Lasell Village Board. Their wealth of experience will help us meet the challenges of the rapidly changing health care landscape."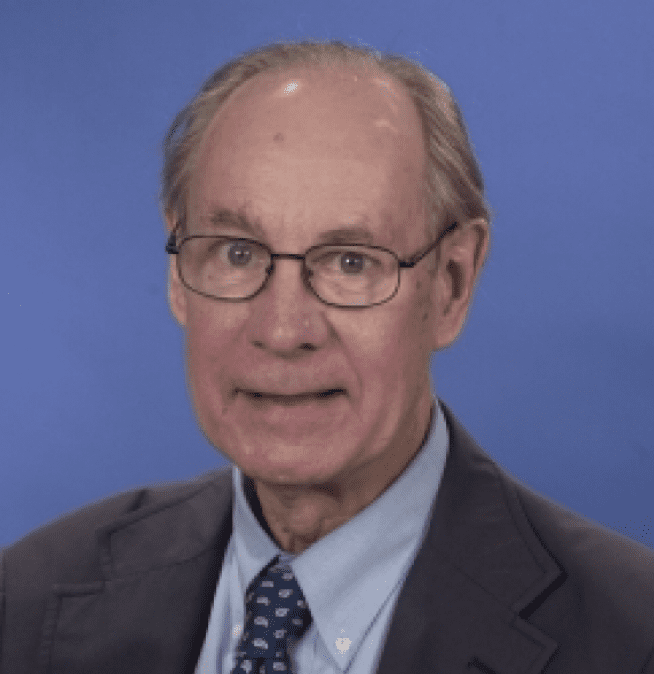 Village Resident Receives Prestigious Warren Alpert Foundation Award
September 30, 2020
With great pleasure, we inform you that Lasell Village resident Dr. Joel Habener is one of three recipients of the 2020 Warren Alpert Foundation award. Dr. Habener, Dr. Jens Juul Holst and Dr. Daniel Drucker are to be honored for identifying glucagon-like peptides and leading the field with studies extending from cells to humans, culminating in the development of these peptides as therapeutic agents for treating diabetes and short bowel syndrome. The award will be presented at a symposium hosted by the Harvard Medical School on October 1.
Dr. Habener noted, "I am deeply honored to share this prestigious Warren Alpert Foundation Prize with my two esteemed colleagues on behalf of the many creative and industrious postdoctoral fellows, trainees, and students who worked on the GLP-1 project over the many years. It is indeed a tremendous pleasure to see that the inspiration and perspiration expended by these co-workers has resulted in a useful treatment for the control of type 2 diabetes mellitus."
Joel Habener, MD, received his BS degree cum laude from the University of Redlands, Redlands, California and his MD degree from the University of California School of Medicine, Los Angeles, California. Dr. Habener is Professor of Medicine at the Harvard Medical School, Associate Physician at the Massachusetts General Hospital, and the Director of the Laboratory of Molecular Endocrinology in the Department of Medicine at the Massachusetts General Hospital.
"The entire community is proud of Dr. Habener and his achievements," said Lasell Village President Anne Doyle. "All of the residents here demonstrate every day the value of lifelong learning for health and well-being."
The Warren Alpert Foundation is a private philanthropic effort which supports innovative individuals and organizations dedicated to understanding and curing disease through groundbreaking research, scholarship and service. Since 1987, in partnership with Harvard Medical School, the Foundation has awarded the Warren Alpert Foundation Prize to many of the world's foremost physician-scientists and researchers. 
Cause for Celebration: Our Virtual 20th Anniversary
August 16, 2020
Lasell Village celebrated its 20th Anniversary by hosting our first virtual party!  Staff at Lasell were planning a large in person party with music, cocktails, friends, family and residents, but the spread of coronavirus had the Village pivot into the world of Zoom.   Residents and staff received special delivery cakes and residents received chocolate covered strawberries with sparkling wine and cider so they could all raise a glass to toast 20 years of lifelong learning at Lasell Village.  Anne Doyle told us, "This is a community that continues to live, laugh and learn together, even during covid."
You can view portions of the virtual celebration below.  Cheers to another 20 years!
Enjoy a sampling of videos from our virtual celebration:
Click on the "play" button (bottom left) to get started.  Click on the "advance" button (far right) to move on to the next video! 
President Anne Doyle visited with staff members celebrating 20 years of service in this our 20th anniversary year, presenting them with commemorative gifts in appreciation.   Our dedicated staff are the heart of Lasell Village!

Lasell Village Featured in New Yorker Article About Workplace COVID-19 Prevention
May, 2020
Boston area surgeon, public-health worker and New Yorker staff writer Atul Gwande (and family member of a Village resident) interviewed Village president Anne Doyle at length for his recent article "Amid the Coronavirus Crisis: A Regimen for Reentry," published May 13.  Dr. Gwande describes four pillars of preventative measures that have helped Mass General Brigham's sprawling healthcare system prevent widespread COVID outbreaks, even as two-thirds of its 75,000 employees have been coming to the workplace during the pandemic:  Frequent handwashing, physical distancing, daily screening, and wearing surgical (or cotton) masks to suppress spread via respiratory droplets.  Gwande argues that all four measures are equally necessary. As communities shift out of stay-at-home orders in the coming weeks and months, Dr. Gwande says a key challenge to upholding these proven measures is "culture," drawing extensively on his conversation with Anne to illustrate the point:
"Culture is the fifth, and arguably the most difficult, pillar of a new combination therapy to stop the coronavirus. People tend to focus on two desires: safety and freedom; keep me safe and leave me alone. What Doyle says she needs her people—both staff and residents—to embrace is the desire to keep others safe, not just themselves. She needs them to say, 'I'm worried about my sore throat, and I am going to stay home.' Or 'I am O.K. with being reminded to pull my mask up.' That is the culture of the operating room. It's about wanting, among other things, never to be the one to make someone else sick."
Nobel Winning Activist Dr. James Muller to Speak at Lasell University Graduation
March, 2020
Dr. James Muller, a visitor and presenter at the Village's intergenerational lunch series last May, has been announced as this year's Lasell University commencement speaker. The Brigham and Women's cardiologist is co-founder of International Physicians for the Prevention of Nuclear War — which won the Nobel Peace Prize in 1985.  A long-time activist, Dr. Muller argues that the continuing threat of nuclear weapons is a grave public health concern that must be vigorously addressed.  His visit with Villagers and University students last May was reported by local NPR station WBUR. Be sure to catch the audio clip!

More WSJ Coverage for The Village
December, 2019
The Wall Street Journal has once again turned its reportage to Lasell Village in the December 19 article Seniors Want to Go Back to Class.  Universities Want to Sell them Real Estate.
With Lasell Village as a prime example, the article describes the growing trend towards university-affiliatied senior housing, as land-rich universities faced with increasing earnings and enrollment challenges tap into the growing market of retiring seniors seeking service-rich living communities.
"Anne Doyle, president of Lasell Village, isn't surprised that schools are catching on to the concept.  While the number of baby boomers settling into retirement is expected to keep rising for several years, the number of high-school graduates heading to college is projected to start decreasing during the same period, because of birthrates," writes WSJ.
"'Thinking about how you combine these two decidedly separate industries…provides enormous opportunity,' Ms. Doyle said."
The article's several photographs were all taken at the Village and feature several residents and familiar spaces.
 Lasell Village Makes News in Barron's
Nov. 25, 2019
Once again, Lasell Village is in the news .  The Barron's article  "Back to School:  More Retirees are Returning to College — to Live!" (Nov. 23) examines the economics and mutual benefits of lifeplan communities affiliated with universities: a vibrant, learning lifestyle and sound financial investment for retirees, and a richer community and added fiscal stability for the university.
The article quotes Villager Bob Danziger:
"We explored five or six communities in the Boston area and selected this one because it has the additional benefit of keeping our brains working," says Bob Danziger, an 85-year-old retired real-estate developer who moved into Lasell Village with his wife in 2014.
The piece also outlines typical costs, fees and the broad range of benefits associated with life at Lasell Village, covering "everything related to the apartment, including monthly cleaning; one meal per day in the Village's dining options; transportation to doctors' offices; access to the Village fitness facility; 60 hours per year of home health care; and living at the Village's skilled-nursing facility if a move there is necessary."  The monthly fee also covers all courses.
Village Featured in the Wall Street Journal
Nov. 17, 2019
"There's a new type of senior on college campuses," reports the Wall Street Journal in a recent article about the growing trend towards university-based retirement communities, or "UBRC's."   Profiling a handful of unversity-affiliated retirement communities, the article highlights our exemplary emphasis on lifelong learning through our relationship with Lasell University.  The piece quotes Villager Caroline Schwartz-Schastny, whose "sole complaint" is this:  "There's just too much to do and not enough time to do it!"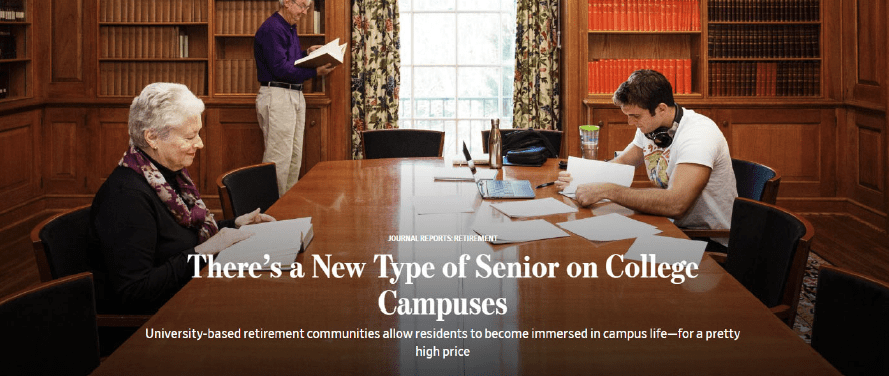 Interested in reading more?  Visit the news archive for a complete selection of news items dating back to 2018.