News From Around the Village
Lasell Village Gets Good Press in

Commercial Observer
March, 2019
Lasell Village President Anne Doyle was recently interviewed by the Commercial Observer for their piece "Woodstock Generation Changes the World of Senior Living."   The article profiles a number of different trends in senior living communities, including the increased appetite for creativity, freedom and community of the Woodstock Generation and tail-end Baby boomers.  Doyle described how Lasell Village meets these desires with our emphasis on education and well-being through a collaborative relationship with Lasell College: 
"Baby boomers are drawn to a community with a vibrant culture that embraces learning and engagement in intergenerational classes, lectures, clubs, and a full roster of fitness programs," said Doyle.  "Our education and health care offerings allow our community to thrive."   The Commercial Observer is the leading chronicle of news in the world of commercial real estate.
Intergenerational Learning:
Storytelling through Quilts at Lasell College
February, 2019
Professor of Art and Graphic Design Margo Lemieux and students in her Drawing II course met with residents at Lasell Village for a "Talk of Ages" event on December 3 that focused on story quilts, an art form that combines technical craftsmanship with creative messaging.  "There is something very rich to the kinds of intergenerational interactions that happen here, because it is a community with genuine respect all around.  This event was the perfect example of that,"  says Lasell Village Education John Dixon. Read more.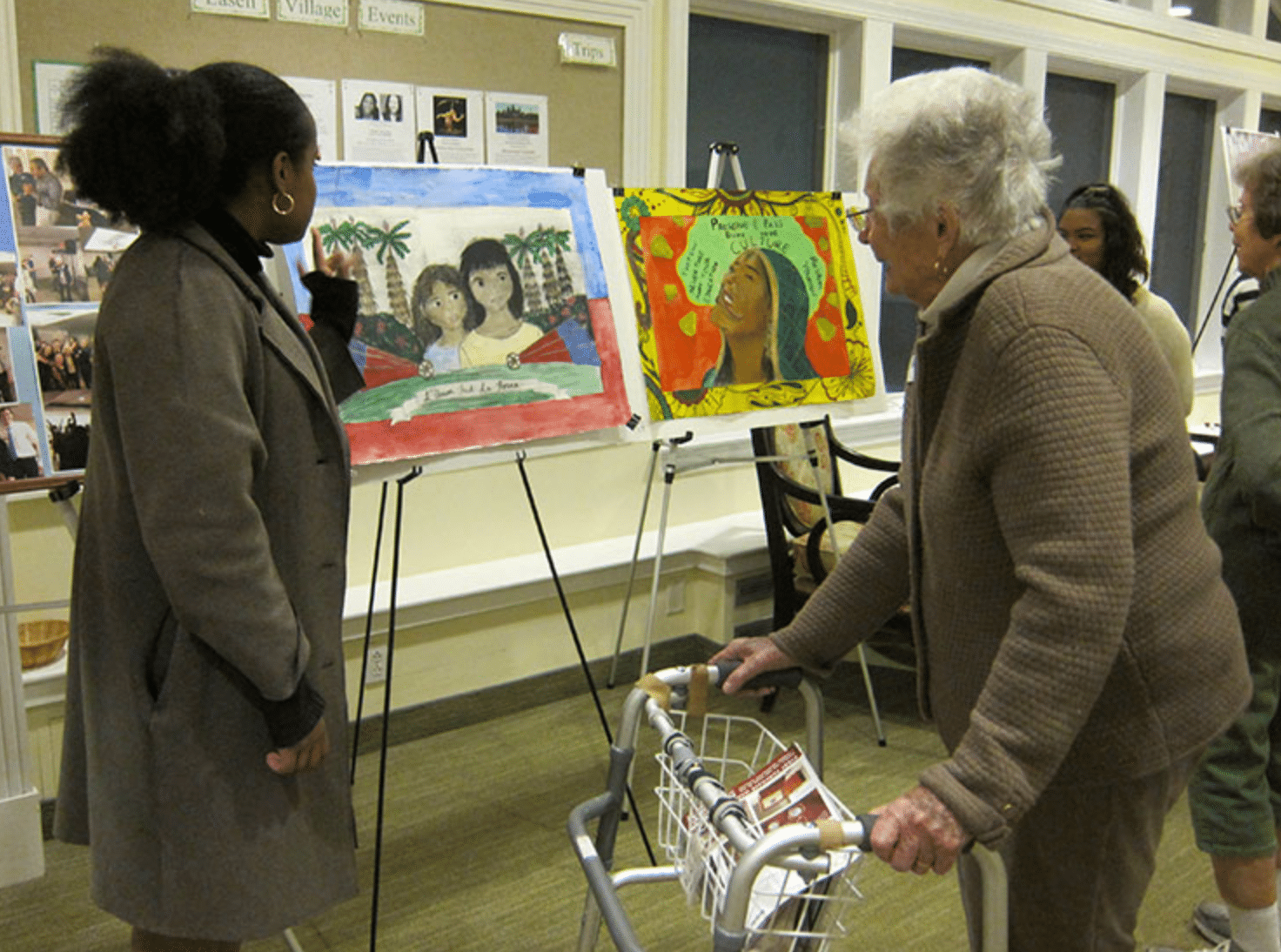 Representing Us
February, 2019
Lasell Village resident Jean Stringham was recently elected Vice President for Membership of the Massachusetts Life Care Residents' Association (MLCRA), where her goal will be to increase membership in the organization of both facilities and individual residents.  The general purpose of MLCRA is communication, education, advocacy, and collaboration with members, Resident Associations and other organizations to support the well-being of seniors living in Continuing Care Retirement Communities (CCRCs) or similarly organized Independent Living Facilities throughout Massachusetts.
Jean's article describing the engagement of Lasell Village residents in our community's governance was published in MLCRA's winter 2019 newsletter.  Click here to read it. Congratulations, Jean!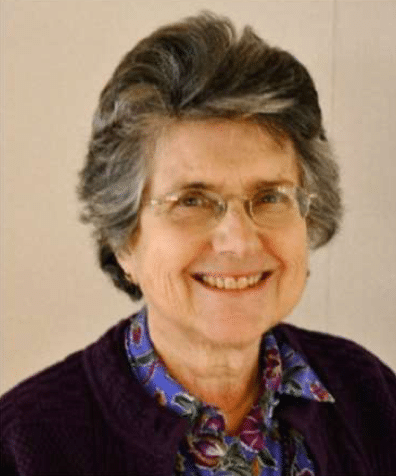 Senior Housing News

Cites Lasell Village's "University Model"



February, 2019
"Lasell Village is a Boston-area continuing care retirement community (CCRC) that is on the leading edge of several senior housing trends, notably intergenerational living and university partnerships,"  writes author Tim Mullaney in a February 4 article published in Senior Housing News, featuring an interview with Lasell Village President Anne Doyle.  
"While many CCRCs offer lifelong learning opportunities, Lasell Village has gone further,"  Mullaney asserts, citing such Lasell exclusives as a 450 hour lifelong learning commitment for each resident, and the community's relationship with Lasell College's Fuss Center for Research on Aging and Intergenerational Studies.  
Gaining Strength
January, 2019
Lasell Village residents are growing stronger by the day, according to fitness instructor Paul Connolly. More and more residents are choosing to work out, with visits increasing by 20% or more versus the prior year for each month of 2018.  In December alone, 81 residents worked out a whopping 576 times, according to Connolly's attendance count.  The Village's fitness guru makes sure to reach out to all new residents so he can orient them to the fitness center's equipment and offerings.  In 2018, he provided personal training orientations for 23 new Villagers.
Paul's enthusiasm for helping residents learn how to safely and effectively increase their fitness is evident in his recent newsletter to residents.  Did you know:
The Wall Street Journal recently cited weightlifting as the most beneficial workout for seniors because it improves bone density, strength and power—all of which help to prevent falls.

Lasell Village has several residents who can push more than 400 pounds on the leg press machine!

 

A good night's sleep is critical to optimal functioning.

Here are four key tips for better sleep:

Set a sleep schedule, going to bed at the same time and getting up at the same time every day.
Review all medications and supplements with your physician to make sure none of them are interfering with your sleep.
Avoid caffeine after 2 p.m.

Prepare for sleep by unwinding in bed before turning off the light:

read, try deep breathing or guided meditation.
Lasell Village Gets an 'A'
December, 2018
Lasell Village recently received a Fitch Rating of A—-and rated in the top 13% of all Continuing Care Retirement Communities (CCRC's)!
We are proud to announce that Fitch Ratings Inc., one of the nation's "Big Three" national credit agencies, released an independent opinion and assessment of the Village's financial health on December 6, 2018.  The "A" rating reflects Lasell Village's strong financial profile supported by a "robust liquidity position, solid operations and steady occupancy levels".
Fitch reported that Lasell Village boasts consistently high occupancy in our independent living units over the past five years.  The report cited our unique location adjacent to the campus of Lasell College, where residents are required to complete at least 450 hours of continuing education, as a strength.  "LV's strong demand in an economically favorable service area has helped generate solid levels of maximum annual debt service (MADS)"  as of fiscal 2018, "better than or on par to Fitch's 'A' category medians."
Click here to read the full report.
 Intergenerational Dance Celebrates Good Times!
December, 2018
Lasell College students along with Lasell Village residents danced the night away Friday evening at Lasell Village's Intergenerational Dance! It was a fun filled evening of dancing and laughter. Congratulations to our Dance King and Queen, Ed and Jane Rabin!  Check out the gallery below: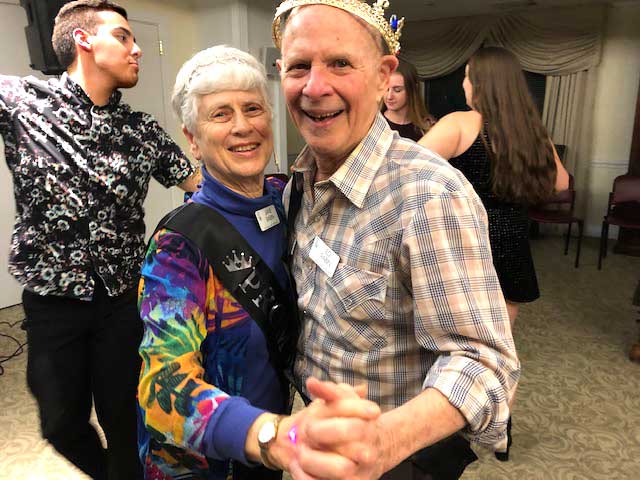 Lasell Village Manager Receives LeadingAge Heart and Hands Award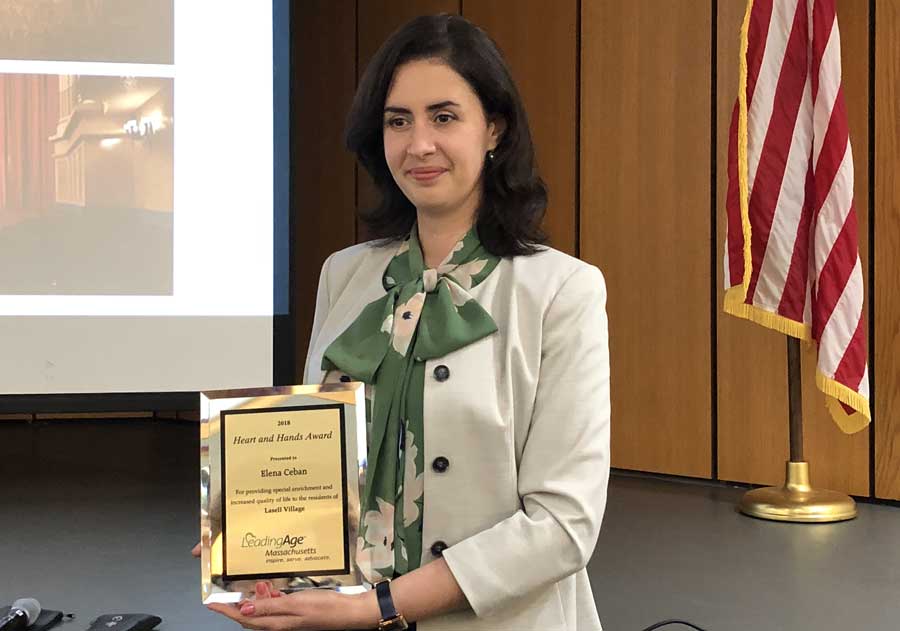 November, 2018
Elena Ceban, Manager of Lasell Studios, was recently recognized by LeadingAge of Massachusetts for her exceptional work in the supported care area of Lasell Village.  
 The Heart and Hands award is given annually to an individual or group who demonstrates exceptional relationships with residents. These relationships should provide special enrichment and increased quality of life to the resident through efforts beyond those normally considered within the position's job description.
Elena's creativity and compassion knows no bounds. In her role as the Manager of Lasell Studios, Elena has gone beyond her job description of caring for the residents, finding new ways to integrate the Studios into the greater Lasell and Newton communities. When Elena enters a room, she adds instant sparkle. She calls all those who live in the Studios her "friends," instead of using the term resident. When Elena talks about her job, she talks about "excitement." She bursts into song. She hugs her friends. But what truly stands out is how innovative she is. She developed an intergenerational course and taught it with a Lasell College faculty member, all for the betterment of the community.
The award was celebrated recently with staff from Lasell Village along with Elena's Mom who visited from Moldova for this very special event. 
Congratulations, Elena!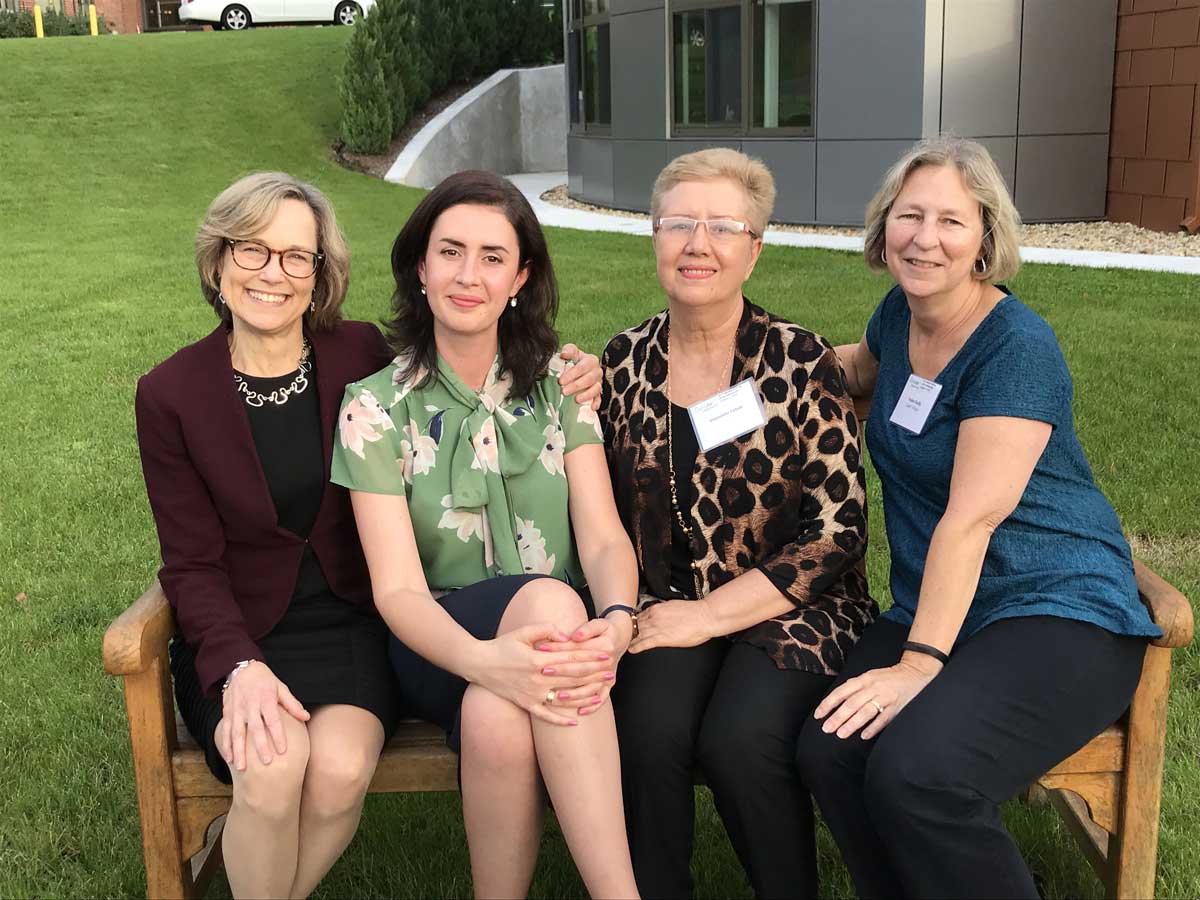 Pictured Above, L-R:  Lasell Village President Anne Doyle, Studio Manager Elena Ceban and her mom, Robin Scully, RN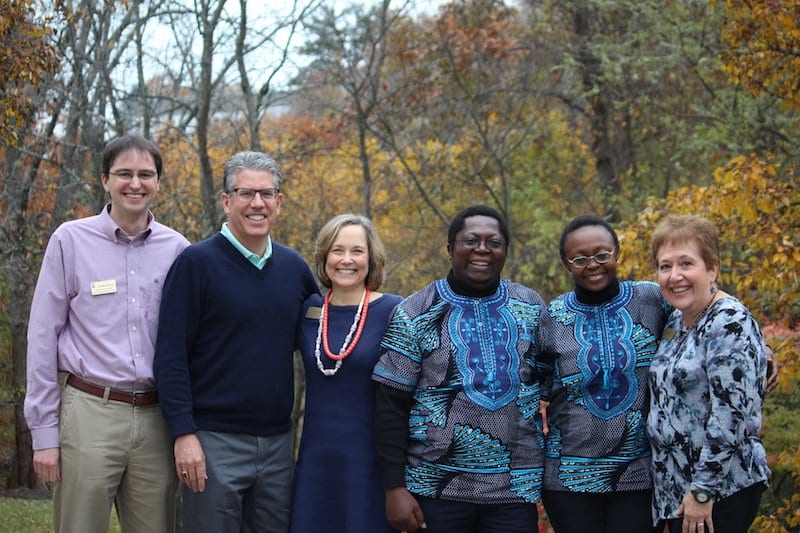 Special guests from Cameroon, Rosie and Francis Njuakom Nchii, Community Development Volunteers for Technical Assistance, in partnership with It's Never 2 Late, visited Lasell Village to share how one corporation's support can make a world of difference.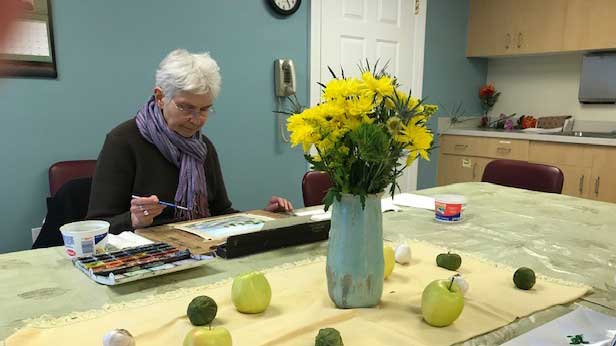 Watercolor Class Explores Autumn Hues
Village residents in watercolor class recently celebrated the apple greens, sunburst yellows, and warm pumpkin tones of fall, painting still life groupings of fruit, flowers and gourds.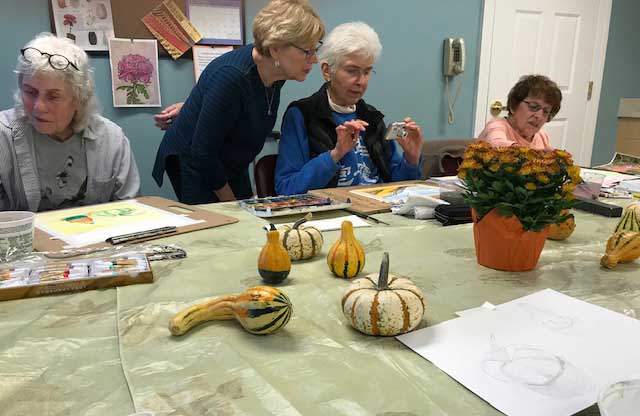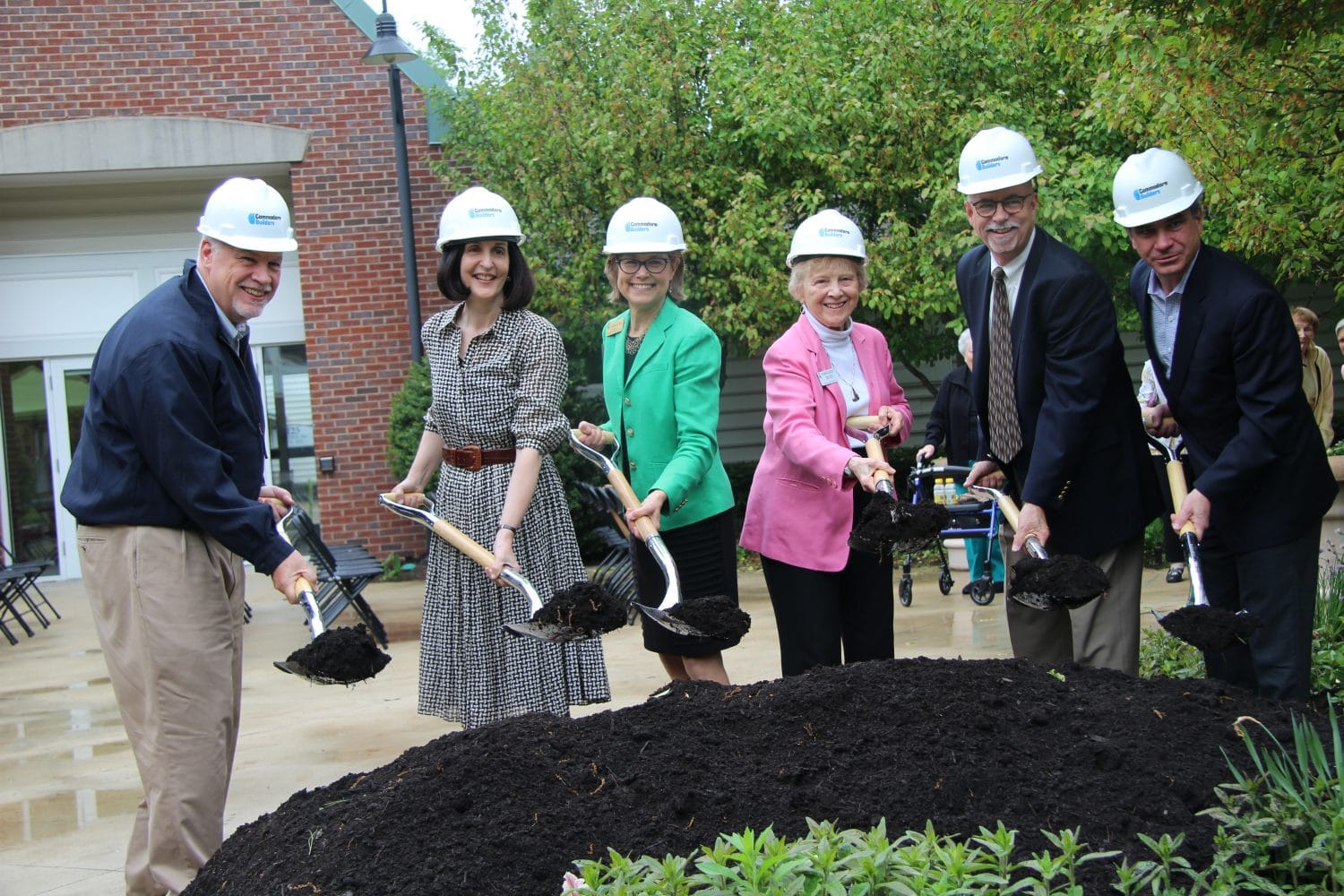 Lasell Village Groundbreaking Ceremony
May 22, 2018
Lasell Village is excited about the new phase of renovation which was kicked off today at the Village with a groundbreaking ceremony.  Mayor Ruthanne Fuller was on hand with Lasell Village President, Anne Doyle and Lasell College President, Michael Alexander, to announce the start of construction that will make Lasell Village facilities more functional, more welcoming and more accessible for residents, future residents, guests and community members.
Lasell Village is a life plan community established in May 2000 situated on the beautiful campus of Lasell College.  It is home to over 200 independent seniors.   Both President and Mayor Fuller noted that Lasell Village and the City of Newton pride themselves in having education at their heart.  The residents of Lasell Village are committed to lifelong learning and enjoy the many benefits of intergenerational classes held at Lasell College.
Michael Alexander reported that "we recently updated the technology in five classrooms located in the Village so they now have the ability to livestream classes.  I look forward to the next chapter of non-traditional education for seniors and students of all ages."
Perkins Eastman created the design and Commodore Builders is the general contractor for the project.  Jean Garbier of VHB updated the courtyard design with more usable green space for residents and community members to enjoy.  Other improvements include: an expanded dining room and café, a larger reception area and concierge desk and improvements for noise reduction and better work flow.
Mayor Fuller noted that "Newton is proud to be the home of the first life plan community in the country where residents commit to an individualized learning plan."
In closing Anne Doyle said, "We are grateful to all our partners, staff and residents, and are excited about a revitalized design for our community."