News From Around the Village
Cause for Celebration: Our Virtual 20th Anniversary
August 16, 2020
Lasell Village celebrated its 20th Anniversary by hosting our first virtual party!  Staff at Lasell were planning a large in person party with music, cocktails, friends, family and residents, but the spread of coronavirus had the Village pivot into the world of Zoom.   Residents and staff received special delivery cakes and residents received chocolate covered strawberries with sparkling wine and cider so they could all raise a glass to toast 20 years of lifelong learning at Lasell Village.  Anne Doyle told us, "This is a community that continues to live, laugh and learn together, even during covid."
You can view portions of the virtual celebration below.  Cheers to another 20 years!
Enjoy a sampling of videos from our virtual celebration:
Click on the "play" button (bottom left) to get started.  Click on the "advance" button (far right) to move on to the next video! 
President Anne Doyle visited with staff members celebrating 20 years of service in this our 20th anniversary year, presenting them with commemorative gifts in appreciation.   Our dedicated staff are the heart of Lasell Village!

Lasell Village Featured in New Yorker Article About Workplace COVID-19 Prevention
May, 2020
Boston area surgeon, public-health worker and New Yorker staff writer Atul Gwande (and family member of a Village resident) interviewed Village president Anne Doyle at length for his recent article "Amid the Coronavirus Crisis: A Regimen for Reentry," published May 13.  Dr. Gwande describes four pillars of preventative measures that have helped Mass General Brigham's sprawling healthcare system prevent widespread COVID outbreaks, even as two-thirds of its 75,000 employees have been coming to the workplace during the pandemic:  Frequent handwashing, physical distancing, daily screening, and wearing surgical (or cotton) masks to suppress spread via respiratory droplets.  Gwande argues that all four measures are equally necessary. As communities shift out of stay-at-home orders in the coming weeks and months, Dr. Gwande says a key challenge to upholding these proven measures is "culture," drawing extensively on his conversation with Anne to illustrate the point:
"Culture is the fifth, and arguably the most difficult, pillar of a new combination therapy to stop the coronavirus. People tend to focus on two desires: safety and freedom; keep me safe and leave me alone. What Doyle says she needs her people—both staff and residents—to embrace is the desire to keep others safe, not just themselves. She needs them to say, 'I'm worried about my sore throat, and I am going to stay home.' Or 'I am O.K. with being reminded to pull my mask up.' That is the culture of the operating room. It's about wanting, among other things, never to be the one to make someone else sick."
Our Own Nancy Snow Chosen As Lasell University Commencement Speaker
May, 2020
Nancy Snow, Executive Assistant to Village president Anne Doyle and a Lasell University graduate student, has been chosen to represent her class for Lasell University's Class of 2020 Commencement.
Studying for her MSM with a concentration in project management while working as an executive assistant at Lasell Village, Snow heavily identifies with what it means to be a life-long learner.
Graduating from Wheelock College with a degree in early childhood education, Snow respects the importance of flexibility, saying, "you need to be open to shift and be prepared to be happy doing something else."
"We have had very challenging last few months with the pandemic and resiliency is a very important life skill to acquire," said Snow. She would also like to thank her boss and President of Lasell Village, Anne Doyle, for encouraging her to get her masters.
The University's commencement was originally slated for May 16 on Taylor Field.  It has been postponed in response to the COVID-19 outbreak, and will be rescheduled in some form when it becomes safe and appropriate.  In the meantime, please congratulate Nancy for her hard work and achievement.
Heartfelt Thanks to D & S Landscapers
May, 2020
Just in time for Mother's Day, the Village's landscaping service surprised our on-site staff with the colorful gift of nearly 100 flowering plants.  Thank you, thank you to D & S founders and President Jennifer and David Sementelli for this uplifting gesture of generosity and thoughtfulness. 
Nobel Winning Activist Dr. James Muller to Speak at Lasell University Graduation
March, 2020
Dr. James Muller, a visitor and presenter at the Village's intergenerational lunch series last May, has been announced as this year's Lasell University commencement speaker. The Brigham and Women's cardiologist is co-founder of International Physicians for the Prevention of Nuclear War — which won the Nobel Peace Prize in 1985.  A long-time activist, Dr. Muller argues that the continuing threat of nuclear weapons is a grave public health concern that must be vigorously addressed.  His visit with Villagers and University students last May was reported by local NPR station WBUR. Be sure to catch the audio clip!

Village's Liz Flaig Receives Lasell University Award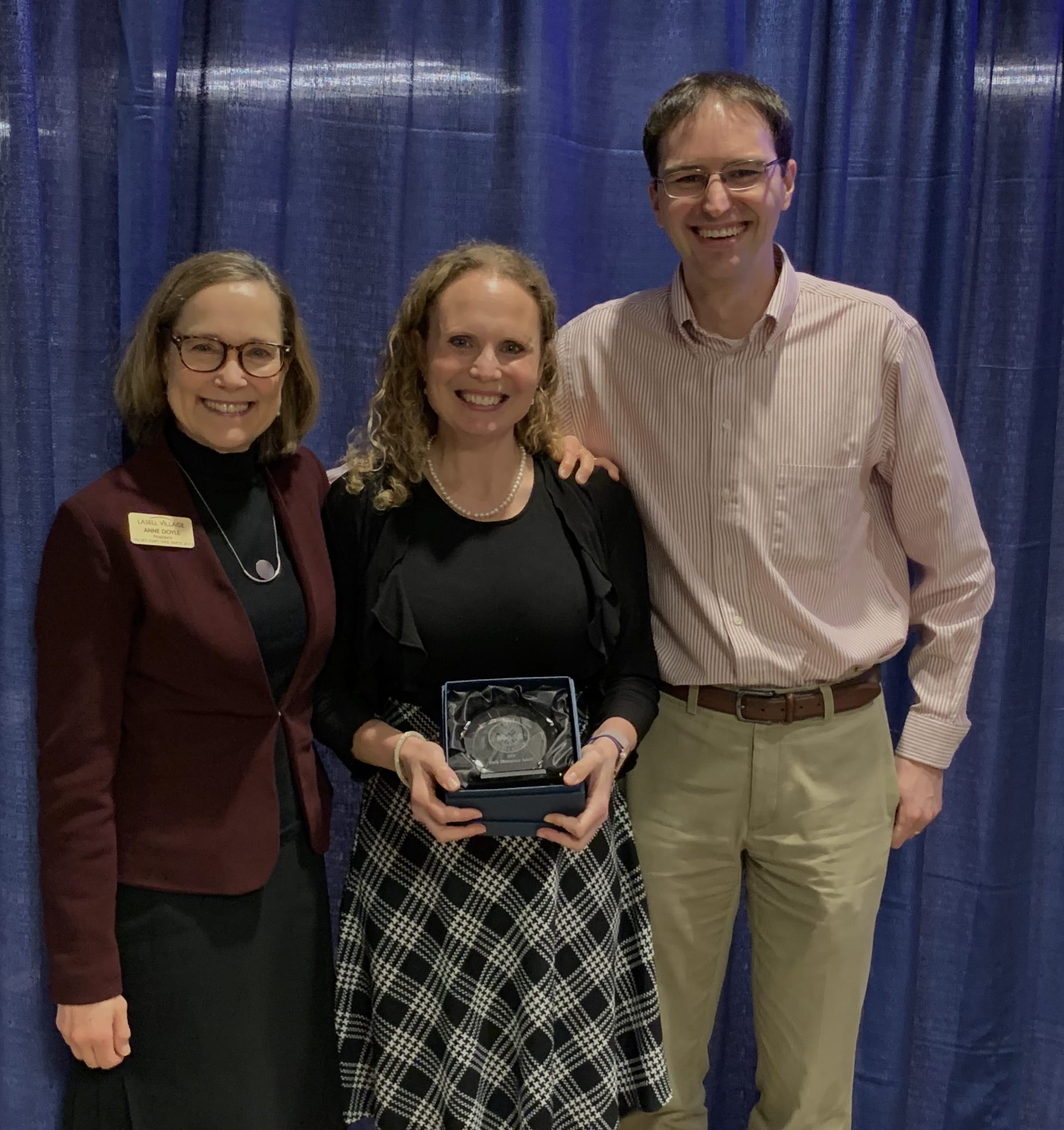 January 24, 2020
Liz Flaig, Lasell Village's Coordinator of Educational and Intergenerational Programming, was one of just two university employees recently honored with Lasell University's  "Early Distinction Award."  The award acknowledges exceptional contributions by individuals employed at Lasell University for less than 3 years, recognizing innovative thinking, work success, and excellence in customer service.
In her time at Lasell Village, Liz has excelled in bringing different constituencies together, reviving favorite intergenerational opportunities like the "Senior Prom." She initiated campus tours for Village residents, introducing them to resources and opportunities such as volunteering with children at Rockwell. Liz also arranged the successful new "Meet And Eat" program for faculty and Villagers in collaboration with the Rosemary B. Fuss Center for Research on Aging and Intergenerational Studies. These contributions and others are essential to Lasell's signature distinction as a member of the global Age-Friendly University.
Congratulations, Liz! 
More WSJ Coverage for The Village
December, 2019
The Wall Street Journal has once again turned its reportage to Lasell Village in the December 19 article Seniors Want to Go Back to Class.  Universities Want to Sell them Real Estate.
With Lasell Village as a prime example, the article describes the growing trend towards university-affiliatied senior housing, as land-rich universities faced with increasing earnings and enrollment challenges tap into the growing market of retiring seniors seeking service-rich living communities.
"Anne Doyle, president of Lasell Village, isn't surprised that schools are catching on to the concept.  While the number of baby boomers settling into retirement is expected to keep rising for several years, the number of high-school graduates heading to college is projected to start decreasing during the same period, because of birthrates," writes WSJ.
"'Thinking about how you combine these two decidedly separate industries…provides enormous opportunity,' Ms. Doyle said."
The article's several photographs were all taken at the Village and feature several residents and familiar spaces.
 Lasell Village Makes News in Barron's
Nov. 25, 2019
Once again, Lasell Village is in the news .  The Barron's article  "Back to School:  More Retirees are Returning to College — to Live!" (Nov. 23) examines the economics and mutual benefits of lifeplan communities affiliated with universities: a vibrant, learning lifestyle and sound financial investment for retirees, and a richer community and added fiscal stability for the university.
The article quotes Villager Bob Danziger:
"We explored five or six communities in the Boston area and selected this one because it has the additional benefit of keeping our brains working," says Bob Danziger, an 85-year-old retired real-estate developer who moved into Lasell Village with his wife in 2014.
The piece also outlines typical costs, fees and the broad range of benefits associated with life at Lasell Village, covering "everything related to the apartment, including monthly cleaning; one meal per day in the Village's dining options; transportation to doctors' offices; access to the Village fitness facility; 60 hours per year of home health care; and living at the Village's skilled-nursing facility if a move there is necessary."  The monthly fee also covers all courses.
Village Featured in the Wall Street Journal
Nov. 17, 2019
"There's a new type of senior on college campuses," reports the Wall Street Journal in a recent article about the growing trend towards university-based retirement communities, or "UBRC's."   Profiling a handful of unversity-affiliated retirement communities, the article highlights our exemplary emphasis on lifelong learning through our relationship with Lasell University.  The piece quotes Villager Caroline Schwartz-Schastny, whose "sole complaint" is this:  "There's just too much to do and not enough time to do it!"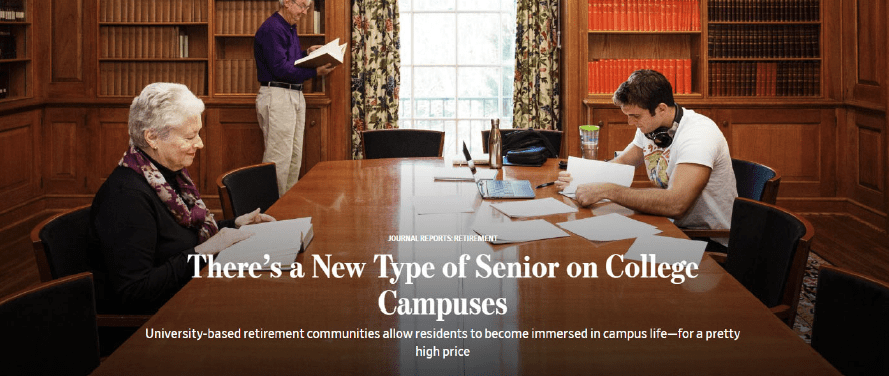 Lasell Village is one of MA's Top 100 Women-Led Businesses
Nov. 12, 2019
Lasell Village President Anne Doyle was recently honored for her leadership of Lasell Village as one of Massachusetts' Top 100 Women-Led Businesses. Sponsored by the Commonwealth Institute and The Boston Globe, the recent ranking celebrated organizations with female leaders, examining revenue or operating budget as well as other variables, including workplace,  management and board diversity, employee professional development opportunities, and innovative projects. Accompanying Ms. Doyle to the celebration were Lasell Village colleagues, family and friends, including Board Chair and resident Margery Silver.  Congratulations, Anne!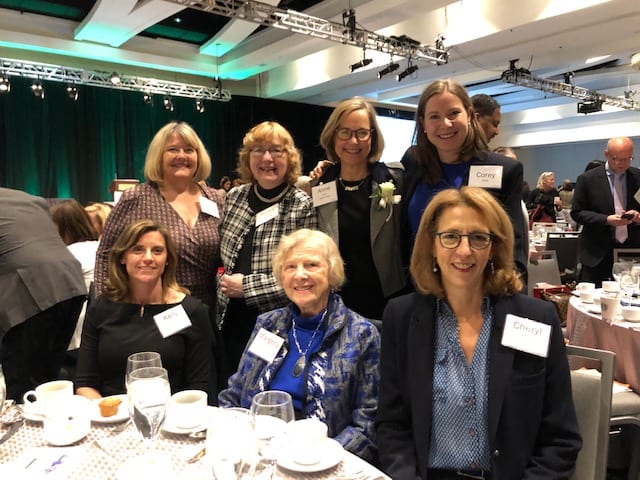 Village Recognized at "Revolutionize" Age-Friendly Conference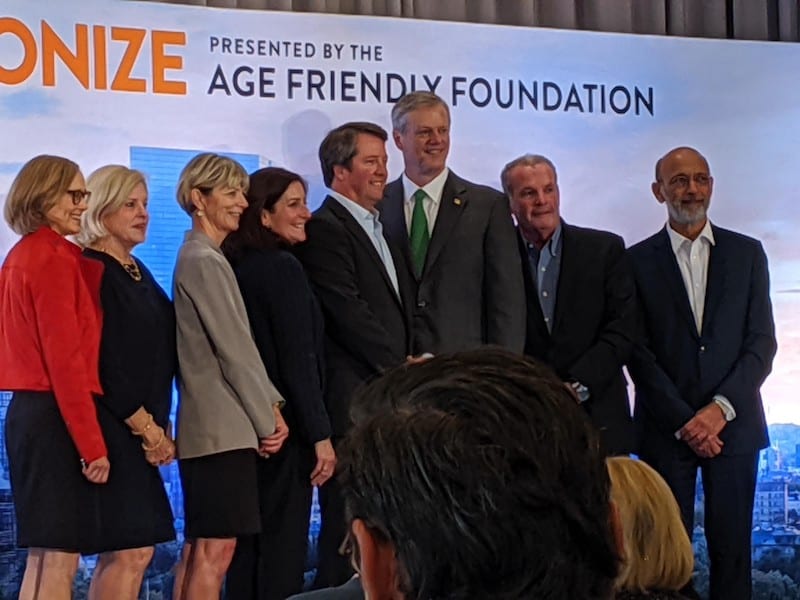 October 25, 2019

President Anne Doyle spoke at Boston's "Revolutionize" conference, the inaugural convening of the Boston Chapter of Aging 2.0, co-sponsored by the Age Friendly Foundation. Held at the Seaport Hotel in Boston with Governor Charlie Baker and World Health Organization's Dr. Alexandre Kalache proving keynote remarks, Anne was joined by Village and University colleagues. The conference theme was revolutionizing aging by promoting creative collaborations among varied business and service sectors.  Lasell is one of the first designated Age Friendly Universities in the country.  Lasell Village was also recognized as an Age-Friendly Employer.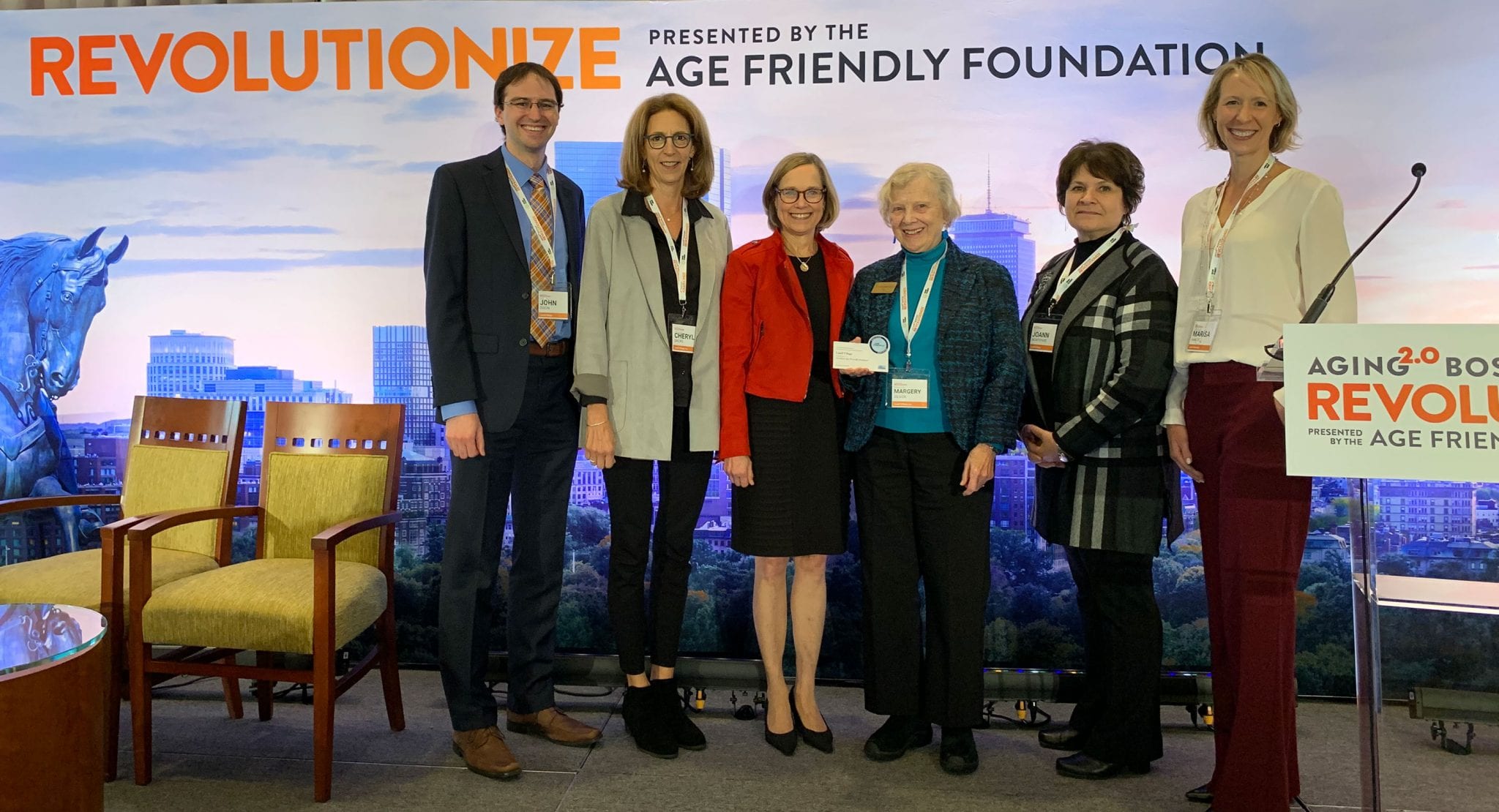 Lasell Village in the NY Times
Lasell Village is featured in the New York Times article "At Colleges, What's Old is New:  Retirees Living on Campus."  (Sept. 10, 2019.)
"Lasell Village, a pioneering retirement community on the campus of Lasell University outside Boston, is providing consulting services to other universities, senior living organizations and developers, said Anne Doyle, the village president, who is a university employee," writes the Times.
We are proud to have been an early adopter of this growing movement and delighted that others look to Lasell Village for our leadership in the campus-affiliated retirement community model.
From Senior Housing News: Benefits of Universities
Affiliating with Senior Communities
June 17, 2019
 It's in the news again:  Senior Housing News recently reported on the benefits to university finances and enrollment of developing relationships with senior living communities. Read it here.
Boston Globe Features LV in Front Page Feature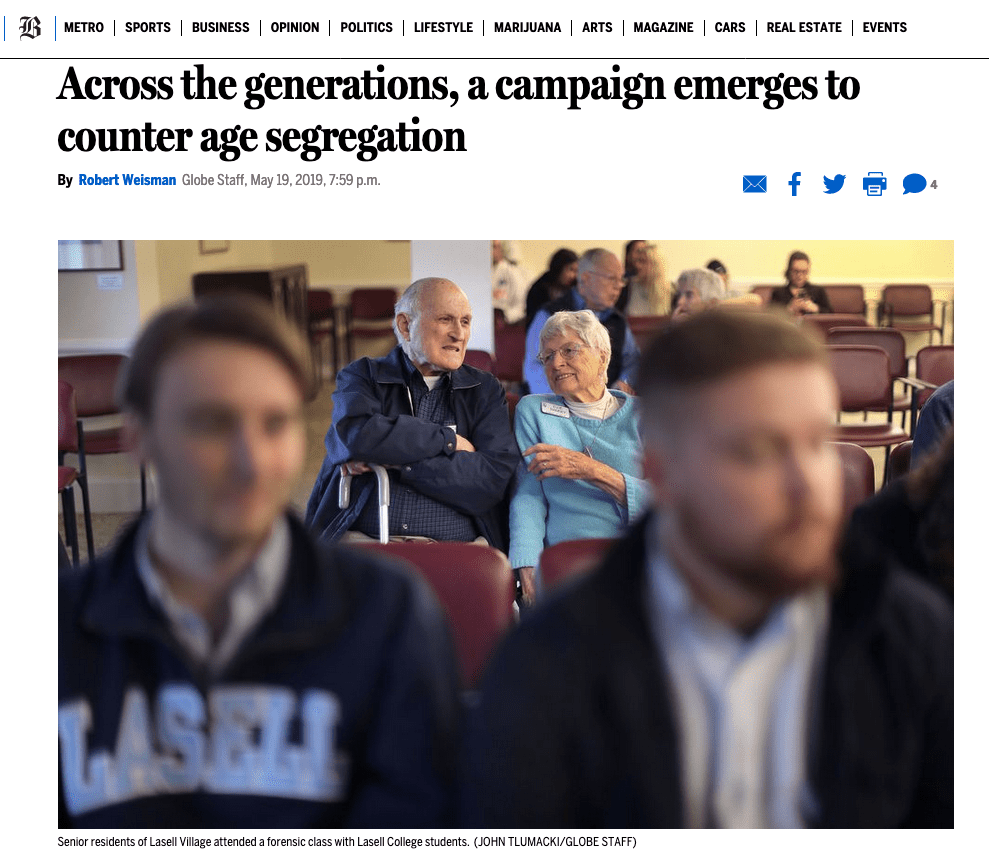 May 20, 2019
 Lasell Village is proud to have been featured in the recent Boston Globe article examining the trend towards better intergrating generations and the benefits to young and old alike.  Reporter Robert Weisman sat in on a Lasell University forensics class where the "crime" under investigation was planned and staged by Village residents, with students and seniors coming together to explore the legal and forensic issues at play.  "The exercise, called 'CSI Lasell Village,' matched undergrads with retirees in their 70s and older…," Weisman reports.  "Lasell's intergenerational classes are part of an emerging movement seeking to connect — or reconnect — people across the age spectrum. The aim is to break down age segregation, the increasingly pervasive and often well-meaning separation of younger and older people in American schools, housing, work, and even spiritual life."  Read the full article here. 

WBUR Profiles Village Intergenerational Lunch with Dr. James Muller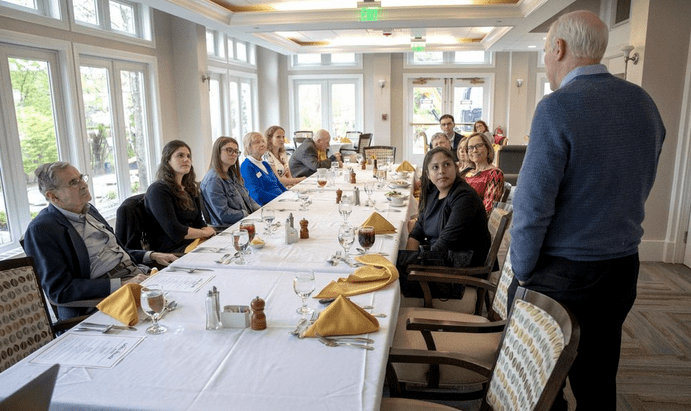 May 10, 2019
On May 3, local NPR station WBUR aired a segment covering an intergenerational gathering recently held at the Village to discuss the contemporary threat of nuclear proliferation. Guest speaker at the luncheon was Dr. James Muller, a Brigham and Women's cardiologist and co-founder of International Physicians for the Prevention of Nuclear War – which won the Nobel Peace Prize in 1985.
Dr. Muller originally visited with us in March at the invitation of the Saturday morning international relations discussion group, a regular gathering organized by Villagers to provide a forum for discussing current events.  Dr. Muller and the participants agreed: with the perils of nuclear conflict rising in recent years, this is a vital conversation to hold with younger generations.
So the intergenerational lunch was born, and student leaders from Lasell University were invited to join Dr. Muller and Village residents to learn more about the current state of nuclear proliferation. The collaboration will continue in the fall.
Interested in reading more?  Visit the news archive for a complete selection of news items dating back to 2018.