Lasell Village: COVID-19 Policies & Updates
Welcome to Lasell Village's Coronavirus update page.  We are committed to providing residents, their families and friends with up-to-date and transparent information about our COVID policies and community health status.  We wish you all strength, health, and comfort as we move forward with hope.
Below you will find our most recent updates.
On the COVID-19 Archive page, find all prior communications about Village policies as our community has continually and proactively adapted to the evolving understanding of coronavirus risk and prevention.
January 18, 2022: What's New? Covid Update
Dear Residents, Staff, Family, and Friends,
I hope that everyone enjoyed the long weekend. I am grateful to the Village Education department for the many meaningful offerings scheduled to honor Reverend Dr. Martin Luther King, Jr. including poetry, film, and discussions.
Today's weekly update holds some promising news and some updated protocols.
According to international reports, there is reason to be optimistic: Scientists are seeing signals that Covid-19′s alarming Omicron wave may have peaked in Britain and is about to do the same in the United States, at which point cases may start dropping off dramatically. As you know, hospitalization lags case rates. The good news is that for vaccinated and boosted individuals, the hospitalization rate among reported positive Covid cases was at .09% in Massachusetts.
Lasell Village Protocol Updates:
Booster-status at Lasell Village:
Lasell Village has lots to celebrate when it comes to our fully vaccinated rate.  In the fall, all residents without an approved medical or religious exemption were boosted.  We invited new residents to be boosted in Village on-site clinics. Over a month ago we set today as the deadline for all staff to receive the booster. Lasell Village was among the first in the area to require this of all Lasell Village and Lasell House employees (well before the national requirement was announced for skilled nursing facility staff). We look forward to achieving this important milestone.
Unvaccinated community members:
Residents have inquired about policies regarding unvaccinated community members. As of today, all staff, faculty and residents who have approved medical or religious exemptions from vaccination are required to test weekly and wear high-quality masks. In classrooms or when participating in any group events or activities, unvaccinated individuals must wear KN95 or N95 masks. Surgical, KN95 or N95 masks may be worn in hallways and common areas. Unvaccinated individuals may not dine in the Café or dining room.
Mask recommendation:
The CDC has recently issued this mask recommendation to the public: Masks and respirators (i.e., specialized filtering masks such as "N95s") can provide different levels of protection depending on the type of mask and how they are used. Cloth products provide the least protection; disposable surgical masks and KN95s offer even more protection; and N95s offer the highest level of protection.
Whatever product you choose, it should provide a good fit (i.e., fitting closely on the face without any gaps along the edges or around the nose) and be comfortable enough when worn properly (covering your nose and mouth) so that you can keep it on when you need to.
Dining room update:
Evening dining in the dining room and Margaret's Café has shifted to re-open on Monday, January 31st (one week later than last reported). Guests who are fully vaccinated and boosted will be welcome with proof of vaccination.
The dining team is busy interviewing and hiring new servers, but the Village does not yet have sufficient staff to open the dining room as planned next week. We appreciate your continued patience while we work quickly to hire and onboard new dining room servers.
Good news: The dishwasher is repaired!
Until January 31st:
Residents will have access to a takeout menu and will need to place an order for dinner (online or via phone) before 12pm every day for meals to be delivered on time.
Margaret's Café will stay closed for dinner but will be open for breakfast and lunch for residents (no guests) and staff.
Housekeeping:
Resident housekeeping services resumed on January 18th.  Thank you for your patience while we temporarily suspended services due to staffing shortages. Your support means a lot to the team.
Educational and group programs:
All large group events and programs will be online or on 918 through January 30th. Small group activities may continue to meet in-person and masked. Remember to wear masks in the fitness center and on the pool deck.
Covid-19 data:
The most recent statewide data (released 1/12/22), showed cases dropping: the Massachusetts 14-day positivity rate was 21.52%. Newton's most recent 14-day positivity rate was 13.18%, up slightly from the week before.  Note that these rates are for reported molecular test results. The state will announces its updated data tomorrow.
The Covid-19 data for Lasell Village, as of 1/17/22, are a 14-day positivity rate of 9%, a 1% increase from last week's 14-day report.
We have started a weekly self-test program with rapid antigen tests for all staff not working in Lasell House. These tests allow us to respond rapidly but will not be reflected in the numbers below unless/until the same individual takes a follow-up PCR test.
In the past 14 days, Lasell Village has completed 327 PCR tests: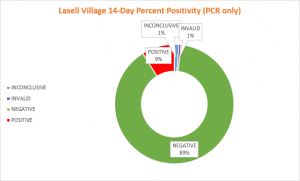 National Covid-19 News:
Many of you saw national news, included here, about the government providing free rapid Covid-19 tests:https://www.whitehouse.gov/briefing-room/statements-releases/2022/01/14/fact-sheet-the-biden-administration-to-begin-distributing-at-home-rapid-covid-19-tests-to-americans-for-free

Rapid Tests Available: Starting on January 19th, Americans will be able to order rapid tests online at no cost to consumers at COVIDTests.gov. (If you have trouble accessing, try both your computer and mobile device.) To ensure broad access, the program will limit the number of tests sent to each residential address to four tests. Tests are expected to ship within 7-12 days of ordering.
Requiring Health Insurers to Cover the Cost of At-Home Covid-19 Tests: Starting January 15th, private insurance companies will be required to cover at-home Covid-19 tests. This means consumers with private health insurance coverage will be able to get these tests for free. Insurance companies and health plans are required to cover eight free at-home tests per covered individual per month. As part of the requirement, the Administration is strongly incentivizing plans and insurers to allow people to get these tests directly through preferred pharmacies or retailers with no out-of-pocket costs, with the plan or insurer covering the cost upfront, eliminating the need for people to submit reimbursement claims. Please watch the news and your health plan's communications for more information.
Stay posted as we work together to resume life together as we know it at Lasell Village.
Best,
Anne
January 10, 2022: Covid Update: services, test results, and tips
Dear Residents, Staff, Families, and Friends,
This is our weekly update on the fast-moving Omicron story. We will continue to send a comprehensive update at the beginning of each week while the Covid surge continues. Our goal is to provide a forecast of the impact on services for the upcoming two weeks. Village managers have been working nonstop and adjusting quickly to new information. We all appreciate your patience as we adapt to the rapid transmission of Omicron. If more frequent updates are warranted, you will hear from us.
This email provides updates on most recent Covid data, service changes in the next two weeks, testing results, and community reminders to help us stay healthy.
Covid-19 data:
As of the most recent Department of Public Health update on 1/6/22, the Massachusetts 7-day average percent positivity had climbed to 23.02%; Middlesex County data for the same period was 12.55%, and the 14-day average for Newton was 9.21%. Lasell Village's 14-day positive case rate through 1/7/22 was  8%. You'll find more on Lasell Village's experience later in this note.
While we, like the rest of the state and country, are shifting our expectations and services once again in response to Omicron, I am proud that our community has taken the right steps to stay as healthy as possible in mind and body.
Dining Services:
We have made the difficult decision to keep the dining room and Margaret's Café closed for dinner beginning tonight through January 23rd.
Residents will have access to a takeout menu and will need to place an order (online or via phone) before 12pm every day in order for meals to be delivered on time.
Margaret Café will stay closed for dinner but will be open for breakfast and lunch for residents (no guests) and staff.
Servers: For some time, we have been short-staffed in the kitchen, dining room, and Café due to circumstances across the industry.  We have now reached a breaking point and need to pause evening dining until we can adequately staff with servers. Many of our students, currently employed as waitstaff, are on winter break and not committing to work until they are back to campus and have confirmed their class schedule. One member of our dining staff is out due to Covid. Additionally, the tight job market continues to lengthen the recruiting process for all our open positions.  We are working diligently to recruit.
Dishwasher: A broken control panel has temporarily put the kitchen dishwasher out of order and the part is delayed.
Supporting residents with online orders: The dining staff will make sure all residents place their daily meal order and provide additional help to those who may not use VillageNet. Classes to learn more about how to place online takeout orders will be offered tomorrow afternoon. The Education department will send further details on how watch via Channel 918 and Zoom.
Educational programming:
Village-organized programs will be virtual (either zoom or 918) through January 23rd.
Housekeeping:
Due to a staff shortage in the housekeeping department exacerbated by Covid, housekeeping services continue to be suspended for another week and will resume on January 18th. As always, please contact the housekeeping department for any immediate issues.
Covid testing at Lasell Village:
Lasell Village has committed to Covid-19 surveillance testing of resident-facing employees and anyone (staff and residents) experiencing symptoms or who has been in close contact with a positive person (five days prior). Internal metrics reported by the Broad Institute show that Lasell Village's 14-day positivity rate for PCR testing is 8% – slightly lower than the Newton average of 9.21% but shows the impact of surrounding community metrics. The chart below shows the most recent results for Village PCR tests for Covid-19.
In 14 days between 12/23/21 to 1/7/22, Lasell Village has completed 333 PCR tests.
302 – Negative results
27 – Positive results
2 – Inconclusive
2 – Invalid
Of the 27 positive PCR tests through January 7th, two are Village residents, five are Lasell House residents, 13 are Village staff, and seven are ancillary contracted staff. In addition, seven staff have tested positive with rapid tests, for a total of 20 staff. The Wellness team notifies close contacts. Those who test positive must isolate for five days and then may return to work and/ or general circulation and as long as they have no symptoms. Lasell House staff must test prior to return to work.
Village staff who have tested positive work across the organization, with the housekeeping department and Lasell House hardest hit.  Our experience at Lasell Village confirms that the Omicron variant transmits easily, even among fully vaccinated people. To date, those who have tested positive have reported experiencing no symptoms, mild symptoms, and moderate symptoms.
 Wear a mask and get boosted:
Everyone, regardless of vaccination status, must wear a mask when in any public setting and, when possible, should maintain a physical distance of six feet from others. This includes all of the common areas, dining venues, fitness center, lounges.
If you, an aide, or a family member needs a booster vaccine, please contact Lasell House Administrator, Aaron St. Laurent, 617-663-7059.
 Notify promptly:
If you experience any symptoms that are potential indicators of COVID-19 (including a fever, chills, headache, sore throat, nasal congestion, nausea, vomiting, diarrhea, skin rash, unusual fatigue, shortness of breath, cough, muscle pain or a new loss of taste or smell) please contact your Primary Care Physician and the Wellness department immediately at (617) 663-7071.  Please do not leave your apartment if you are feeling unwell.
Get tested if you experience symptoms or have been a close contact:
Lasell Village is proactively testing front-line staff and any residents and staff who exhibit any symptoms or who have been in close contact with a someone who is Covid positive (testing is five days after exposure per current guidelines).  Please contact the Wellness Center to be tested.
 Ensure visitors are fully vaccinated:
Visitors, vendors, contractors, and companions are required to be fully vaccinated.  There are some exceptions per Department of Public Health guidelines. Lasell House and Lasell Village visitation is not permitted for those who are Covid positive, symptomatic, or quarantining due to having been a close contact.
I am grateful to our Village Managers and front-line staff who are going above and beyond to meet the community's needs and to cover for staff who are out due to Covid positive results or symptoms.  Thank you for your patience and flexibility as we work hard to restore services and respond quickly to support our community's wellbeing.
Best,
Anne
January 4, 2022: Adjusted protocols to keep pace with Omicron
Dear Residents, Staff, Family, and Friends,
 Welcome 2022!  It's time to flip our calendars and review updated Covid protocols. Lasell Village is implementing additional adjustments to Covid policies to reduce transmission risk within our community. Public health experts suggest that Omicron transmission in the next few weeks will be rapid. This email augments the email I sent on Friday, December 31st.
As a community with nearly everyone fully vaccinated and boosted, we all know that we are in a better place than one year ago when vaccinations were just becoming available. Our philosophy is to maintain an engaged community while mitigating risks. The following protocol changes, effective Tuesday, January 4th, are made in this context.
1. Guests: Only fully vaccinated guests will be permitted in our community in both public and private spaces, including independent apartments; (this may mean that some children may not be able to visit during this period if not fully vaccinated per definition below).  Outside guests are not permitted to dine at this time, regardless of vaccination status.  All guests must continue to screen at the welcome desk.
The CDC's link below states: "In general, people are considered fully vaccinated:
2 weeks after their second dose in a 2-dose series, such as the Pfizer or Moderna vaccines, or
2 weeks after a single-dose vaccine, such as Johnson & Johnson's Janssen vaccine."
"If you don't meet these requirements, regardless of your age, you are NOT fully vaccinated. Keep taking allprecautions until you are fully vaccinated."
https://www.cdc.gov/coronavirus/2019-ncov/vaccines/fully-vaccinated.html
2. Village Educational Classes*:  For the upcoming semester, all Village classes will require faculty to either be masked or to hold classes online (Zoom and 918). Director of Education, John Dixon,  and his team are working with each faculty member, taking into account their individual vaccination status and other class considerations, to make these shifts.
*Please note that winter/ spring classes begin on January 31st, providing ample time to adjust and communicate updates to residents.
3. Multi-generational Lasell University Classes: The Education Department will work with the university faculty to address the location of these classes. Impacted residents will be informed of changes, and updates will be published on VillageNet and News and Notes.
4. Performances, Talks, and Exercise classes:  All will be moved online to Zoom and /or 918 temporarily. Fitness Centers and the pool will remain open. Masks are required in the Fitness Centers and on the Pool Deck. Some events, workshops, and trips may be postponed. Please watch VillageNet and News and Notes for updates.
We recommend that resident groups and committees maintain a small size or hold meetings via Zoom if possible.
5. English Language Learning classes: These in-person resident and staff conversational classes will be suspended in January and reassessed next month.
6. Dining: Residents may continue to dine with each other, donning masks when not eating or drinking. When making reservations, please be patient as the dining team works hard to spread reservations across the full dining hours to avoid congestion and aim for smaller dining parties (no more than tables of four). Outside guests are not permitted in the Dining Room or Café at this time, regardless of their vaccination status.
In addition to these updated protocols, for additional precautions, we are re-instituting staff surveillance testing for front-line staff.
The management team will tweak and reassess protocols as we learn more from Omicron transmission data, regulatory guidelines, and best practices.  Thank you for remaining flexible and supportive. Flexibility seems to be the operative word as we begin 2022!
 Best,
Anne
December 31, 2021: IMPORTANT Covid Update
Dear Residents, Staff, Family and Friends,
 We find ourselves in yet another chapter of the Covid story.  As every media outlet and our government officials remind us daily, the Omicron variant is highly transmissible. Yesterday's case count in Massachusetts is now the highest daily case count of the pandemic. The percentage of positive molecular tests (7-day moving average) in Massachusetts is 16.4%.
 In the last two days, the Centers for Disease Control and Prevention (CDC) and the Massachusetts Department of Public Health (DPH) have updated their guidelines around quarantining and isolating. (Guidelines for health care employees differ and have been shared with our health care teams.)
 This note provides information on the CDC and DPH guidelines as they pertain to our Village residents and guests and introduces new dining guidelines beginning tonight.
 Dining and guest changes:
The Management team has worked hard to consider our community's safety during this period of exceptionally high transmission. After much deliberation, effective tonight, December 31st, no guests will be allowed in the Dining Room or Café.  We are sorry for this last-minute change when we would like to celebrate without worry. The team will continue to watch transmission rates, and as soon as it is prudent, we will reopen dining to guests.
 For those dining at Lasell Village, David, Joey, and their team of servers appreciate you remembering to wear your mask when not eating. This is especially important when moving about the dining room during the weekend buffet and when sitting with friends while dining.
 To cancel or change dining room or café reservations, please call 617-663-7011.
 To order dinner takeout for tonight for you and/or guests to eat in your apartment, you may call or click on this link up until 1pm today.
https://www.cognitoforms.com/LVDining/DinnerMenu
 We highly recommend that guests who are dining in residents' apartments be fully vaccinated with booster shots (age dependent).  Please continue to take steps to reduce transmission.
 Gathering and visiting with friends and family:
Small is beautiful. Given Omicron transmission rates, we urge you to limit the size of any group gatherings, maintain social distance, and wear a well-fitted mask.  We recommend that all residents either postpone holiday parties or refrain from serving food and drink.
 Please review the CDC guidance below for what to do in a variety of situations.
Questions?  Our goal is to prevent the spread of Covid throughout the Village and we appreciate your partnership. Below are answers to frequently asked resident questions. The CDC guidance in the link above provides additional details.  I am grateful to our Wellness Center staff who will be available over the holiday weekend from 9am – 1pm on Saturday, and 9am -3pm on Sunday. If you feel unwell, please call your Primary Care Physician and alert the Wellness Center: 617-663-7071.  Please do not move about the Village if you feel unwell.
While Omicron has muscled into our daily lives and interfered with holiday plans, let's consider safe ways to ring in the New Year. How about shaking a noise maker rather than raising a glass to welcome 2022?  Our collective goal is to embrace 2022 with good health for all.
Warm New Year wishes,
Anne
 FREQUENTLY ASKED QUESTIONS
What is the difference between quarantine and isolation?
Quarantine is a restriction of movement.
Isolation is greater seclusion from others.
Quarantine if you were exposed to someone with Covid: During quarantine, a person who has been exposed to the virus (also called a close contact) is required to restrict their movements to avoid prolonged contact with others. A resident who is quarantining could go for walks outside, pick up their mail, or pick up a take-out order, but should avoid all group activities, including dining. There are small differences in the guidance depending on vaccination status (explained in CDC guidance link above).
Isolate if you are Covid positive: A resident with a known infection, regardless of vaccination status, must stay home for 5 days, and arrange to have meals delivered and trash picked up.  If symptoms resolve, or there are no symptoms, after 5 days, residents may leave their apartments.
What is a close contact?
Close contact is described by the Centers for Disease Control and Prevention (CDC) as someone who was less than 6 feet away from an infected person for a cumulative total of 15 minutes or more over a 24-hour period.  (This includes three individual 5-minute exposures for a total of 15 minutes.)
Do I need to wear an N95 mask for protection?
Both the Department of Public Health (DPH) and the CDC recommend wearing a well-fitted mask. An N95 mask is not required. Most important is that you wear a properly fitted mask.
The CDC provides helpful mask guidance here: https://www.cdc.gov/coronavirus/2019-ncov/your-health/effective-masks.html
If I have been exposed, can I still eat in the dining room or café?
No. CDC guidance recommends that boosted individuals should wear a mask around others for 10 days. 
Are guests of close contacts allowed to visit in my apartment?
Guests who have had a close contact should follow the CDC guidelines and not visit. Guests who have had exposure should not be eating anywhere at the Village (including in individual apartments) until they have satisfied the recommended 10 days of mask use.
Do I need to test if I am a close contact?
CDC/DPH guidelines suggest an asymptomatic person with Covid exposure should test on day 5.
Where can I receive testing?
PCR testing is available at Lasell Village Monday morning between 7am – 10am in the Bloom classroom forasymptomatic residents and staff who have had contact with someone who is positive 5 days prior. Lasell Village is awaiting a shipment of rapid tests. You are welcome to seek testing outside the Village, but as media reports indicate, be prepared for extensive wait times; you may be able to purchase rapid tests.
Symptomatic residents must call the Wellness Center first for guidance.
What are the hours of the Wellness Center over the holiday weekend?
If you feel unwell, please call your Primary Care Physician and alert the Wellness Center: 617-663-7071.  Please do not move about the Village if you feel unwell.
Wellness hours over the holiday weekend are:
Friday, December 31st: 8am – 3:00pm
Saturday, January 1st: WE HAVE ADDED NEW HOURS with thanks to our Wellness director: 9am – 1pm 
Sunday, January 2nd: 9am – 3pm
 Thank you for your partnership as we ring in what we all hope is a HEALTHY New Year.
December 21, 2021: Covid Holiday Update
 Dear Residents, Staff, Family and Friends,
 Lasell Village is requesting your help as the Covid Omicron variant circulates globally and locally.  Our national infectious disease expert, Dr. Anthony Fauci, described the variant as "extraordinary" in its transmissibility, with a doubling time of two to three days. We know that getting vaccinated, including receiving the Covid booster, is the best protection against contracting the virus. I write with a few updates to reduce Covid transmission risk in our community:
Booster shots:
Lasell Village and Lasell University are mandating the Covid-19 booster for all employees by early in the New Year. Most members of our community received the booster this fall (including nearly 100% of residents); in the coming weeks, we are offering boosters on-site for remaining employees and residents who have yet to receive the booster.  Please contact the Wellness Center with questions or to schedule.
Dining:
Visitors, including children, are welcome to dine in the Café or dining room but must be fully vaccinated and have obtained a booster shot if they are 6 months past their initial vaccinations.  Guests must continue to complete the screening questions at the Welcome Desk. Visitors will need to show proof of full vaccination at the host podium in the dining room or at the cash register in the Café. This protocol will go into effect starting tomorrow, December 22nd.
Takeout is always an option for residents who would like to dine in their apartments with friends and family members who have not yet received the required vaccines or booster shot, or who arrive at the Village without proof of vaccination status.
Guest swim:
Guests and family members may swim in the Village pool but must be fully vaccinated and have obtained a booster shot if they are 6 months past their initial vaccinations. This requirement will go into effect starting with the next guest swim.
Visiting

and travelling

:
Residents attending dinners with families or guests who are not vaccinated or have not received the booster, including unvaccinated children, should self-isolate for three days.  Residents may pick up mail and takeout but must avoid engaging with others and continue to wear a mask. Please contact the Wellness Center if feeling unwell.
Testing:
If you do not feel well, please call the Wellness Center to receive a rapid test. We continue to test staff as required by the Department of Public Health, residents and staff with symptoms, faculty prior to teaching, and all those who feel unwell. At this time, due to a limited supply of tests, we are not able to offer testing to residents who are travelling and encourage residents and guests to seek testing as possible. We will let you know as soon as this changes.
 Thank you for approaching the holidays and these updated protocols with the Village's signature resilience, flexibility, and care for each other. We all need to be thoughtful and careful. Wishing you safe, nourishing, and happy times with friends and family as we usher in 2022.
 Warmest holiday wishes,
Anne
September 8, 2021: Covid Protocol Reminders: We Offer Testing if Concerned
Dear Residents, Staff, Family, and Friends,
With the Jewish New Year reminding us to reflect on the past and look forward to the coming months, our team is grateful to be working with our caring community as we collectively negotiate the evolving Covid-19 virus and Delta variant. The Lasell Village team wants to remind you of our protocols:
1.  Masks: Masks are required at all times inside the Village when around others, except when eating in the Café or Dining Room. Outdoor visits (mask-free) are encouraged!
2.  Testing: There are many reasons for residents, staff, and guests to be tested:
a.  Close contact with a positive individual:       
i.  Vaccinated individuals: The CDC does not require vaccinated individuals to quarantine after close contact with an infected individual. Continue to wear a mask at all times and be tested: If exposed, please contact the Wellness Center to be tested immediately, as well as on the third and fifth day after exposure                                       
 ii.   Unvaccinated individuals:Unvaccinated individuals who have had close contact with an infected person need to self-quarantine for ten days, wear a mask around others, and test on the tenth day. While nearly everyone at Lasell Village is vaccinated, if concerned about possible exposure as an unvaccinated individual, please contact the Wellness Center immediately.
b. After travel out of state: Residents and staff need to be tested upon return to the Village, and again on the third and fifth day.
c. Working at Lasell House: Staff will be tested weekly, following Department of Public Health protocols.
d. Concerned individuals: We offer – at no cost – BinaxNow rapid testing (15 minutes) to everyone in the community, including guests. Contact the Wellness Center at 617-663-7071 to schedule an appointment.
3. Classes: All Village faculty are vaccinated. Residents are required to wear masks in all classrooms, including Voices of Experience. If you feel ill, please stay home; several classes have 918 and Zoom options. Lasell University has also instituted a set of Covid protocols for students, faculty, staff, and visitors. Residents participating in Lasell University courses or visiting University buildings should refer to https://www.lasell.edu/covid-19-information.html for current information.
4.  Visitors: It continues to be important that ALL visitors go through health screening at the front desk.
Unvaccinated visitors are not allowed in Lasell House, per Massachusetts Department of Public Health regulations.
Per Department of Public Health regulations, newly admitted Lasell House patients are not permitted to have visitors within the first ten days, unless it is a compassionate care visit. To schedule a visit, call either Lasell House Administrator Robert Fondi (617-663-7059) or Director of Nursing Andrea Rando-Blaha (617-663-7101).
An excellent article in today's New York Times provides timely information: Breakthrough Infections: How to Navigate. We look forward to updating you when we hear from CVS about distribution of a third dose of the Covid vaccine.
Best,
Anne Doyle and Robin Scully, Director of Wellness
August 26, 2021 Update on COVID-19 Booster Vaccines
Dear Residents, Staff, Family and Friends,
The question on everyone's mind is, "When will Lasell Village offer a vaccine clinic for Covid-19 booster shots?"  The short answer is, stay tuned! This note provides an update on what we know today.
What's a booster shot? What's a third dose? Is there a difference?
The CDC recommends:
"People who are moderately to severely immunocompromised should receive an additional dose of the mRNA Covid-19 vaccine after the initial 2 doses."
The CDC explains the difference between  a booster shot and an additional (third) dose:
"This additional dose intended to improve immunocompromised people's response to their initial vaccine series is not the same as a booster dose, given to people when the immune response to a primary vaccine series is likely to have waned over time."
What should you do if you think you qualify for a third dose?
The CDC recommends a third dose for individuals with certain medical conditions who initially received the Pfizer or Moderna Covid-19 vaccine. You may want to check with your Primary Care Physician. Residents who qualify medically can contact Walgreens or CVS directly and schedule an appointment.  
If you receive an additional Covid-19 vaccine dose, please let the Wellness Center know by calling 617-663-7071.
Who is eligible for a Covid-19 booster shot, and when will they be offered?
The U.S. Department of Health and Human Services announced last week that the booster program is planned to start in the end of September, prioritizing those who received their initial Covid-19 vaccines earliest in the vaccine rollout.  This plan is subject to further FDA review and evaluation.
Lasell Village was fortunate to be in the initial Pfizer vaccine rollout, and we are hopeful for good news around the booster schedule. Our team is in close contact with CVS to schedule our community booster vaccine clinics.  They have not yet established their booster clinic dates.
What's the plan for Village flu and Covid-19 community vaccine booster clinics?
We will arrange clinics this fall at Lasell Village for both a flu vaccine and the Pfizer Covid-19 booster vaccine with medical guidance informing the timing of these clinics.
What is the vaccine rate at Lasell Village?
We are very proud to be approaching 100% vaccination of all Village employees. In May, we set the date of September 1st for full vaccination to continue employment at Lasell Village. Our team has been a leader in requiring vaccinations for the safety of our entire community. As of February, 98% of our residents have also been fully vaccinated.  
Questions?
If you have specific medical questions, please reach out to your Primary Care Physician. Both Robert Fondi, Administrator of Lasell House, 617-663-7059, and Robin Scully, Director of Wellness, 617-663-7050, are available for other questions.
We will keep you updated on the plan for vaccine clinics.  
Enjoy these late summer days,
Anne
August 3, 2021 Update: Masks are back and rapid tests are available
Dear Residents, Staff, Family and Friends,
The Covid Delta variant is changing our world quickly and Lasell Village is adapting quickly, too.  Beginning right away, we are asking everyone to help us maintain a healthy community by wearing a mask.
Residents: Please wear a mask when others are present. This recommendation applies outside our community and on our campus, including, but not limited to, the Village fitness rooms, classrooms, transportation, common areas, and the Café and dining room (when not eating).
Please remind guests, vendors, and aides to wear a mask and continue to check-in at the front desk.
At this time, only vaccinated persons are allowed to eat in the dining room and Cafe. Masks should be worn when not eating.  The take-out option is still available in the Café.
All staff are wearing masks.
We are happy to be able to offer free rapid tests from the Wellness Center for all residents, staff, guests, vendors, and aides by calling 617-663-7071 during regular Wellness Center hours (M-F 7am – 8pm, and weekends and holidays 9am – 3pm unless otherwise posted). Testing is a great tool to use immediately if experiencing any symptoms or if concerned about Covid exposure.
What about upcoming concerts?
We are asking all Voices of Experience members to wear masks during rehearsals. Prior to the final concerts, we will administer a rapid test to each member of the Voices of Experience.  We plan to hold the concerts in the Ballroom with masked audience members, and we will also make the Voices concerts available via Channel 918.
Thursday evening's "Paul Broadnax Tribute concert" will follow similar guidelines, with all musicians tested prior to the concert and audience members wearing masks.
Thank you for being flexible and responsive to evolving information and guidelines. We are working hard to mitigate Covid risks while continuing to maintain a social and engaged community.
Best wishes,
Anne
Looking for an earlier update you don't see here?  Click below to visit the COVID-19 archive page.
In addition to Lasell Village updates, Lasell University regularly posts COVID-19 information.  Click below to visit the University's Fall Reopening / COVID-19 Information Page:
Other reliable sources of information you may find helpful: